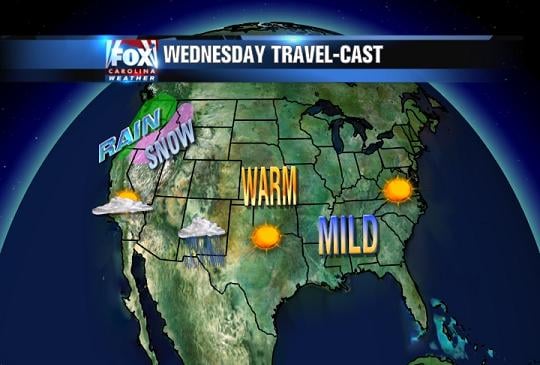 Happy Thanksgiving Eve! Since a lot of folks will be hitting the roads or heading to the airport today, I wanted to give you a travel weather post. Luckily for those of you staying in the region, we've got very tranquil weather on tap. While we're starting off chilly (temps in the 30s and 40s), afternoon highs will be mild - rising into the low to mid 60s in the Upstate and Mountains.
We'll stay dry, so there won't be any need for the umbrellas or windshield wipers! Although there wont' be any water on the roads, the amount of cars out there could lead to some slow-downs. Skies will be mostly sunny by the afternoon - so pack your sunglasses! If you'll be in town meeting up with old friends by the evening, we'll stay on the clear side, with temps cooling back into the 50s and 40s (bring a jacket along)!
The weather across the country is cooperative as well, with very few problem spots expected. There could be some delays in the Pacific Northwest, where rain and snow showers are likely - but reports say airports like Seattle aren't big hubs, so they shouldn't lead to significant delays down the line. The rest of the nation will stay pretty quiet (see image at right).
For the rest of the local holiday forecast, check in with us on The Morning News - plus, Kendra will have another post later today and plenty of info on-air at 10 and 11! Have a very happy Thanksgiving!