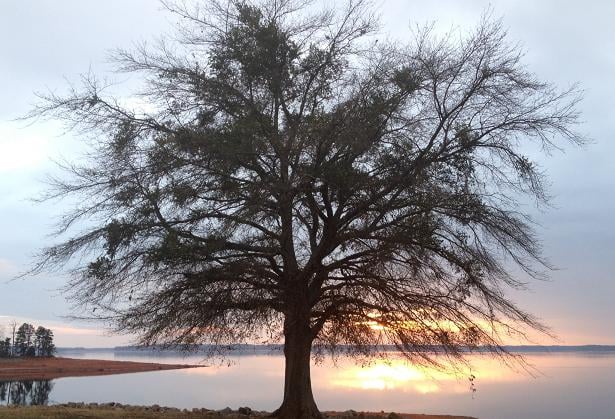 this picture was taken at lake Hartwell by Randall Burgin
Sunday: Mild conditions will be one of the focal points on Sunday. Another will be the potential for some spotty, light rain by afternoon and evening. Keep in mind that most of Sunday will be dry. Temperatures will reach the 60s area-wide.
Monday: 100% chance for rain as another system develops and rides in on the coattails of Sunday's weaker disturbance. Expect wet roads and off/on rain through the day as temperatures remain mild with 50s and 60s.
Tuesday & Wednesday: By mid-week the rain will have cleared and moved east. Clouds will break up as well with sunshine coming back into our forecast. Expect cold air in the morning and 50s for highs by afternoon.

No Sustained Winter Temperatures in Late Fall: Not that sustained winter-like conditions are normal or expected around here in December, but outside of a couple of cold mornings this week, there won't be any sustained cold air settling into our region.
Fact is, it's late fall and Canada continues to deal with very cold air. It won't take long for sustained cold to make an appearance across the Western Carolinas.