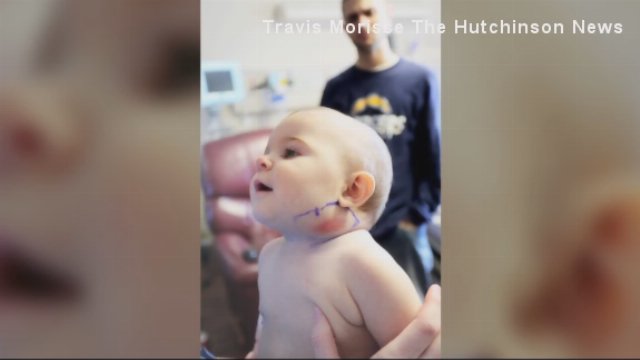 HUTCHINSON, KS (KCTV/AP) -
A nearly 7-month-old Hutchinson girl is recovering with her family after a medical mystery sent her to the hospital.
Luckily, a doctor at Hutchinson Regional Medical Center discovered the problem when she pulled a 2-inch black feather out of young Mya Whittington's neck area.
It is reported that Mya, at some point, likely swallowed or inhaled the feather, which then pierced the inside of her cheek or throat. The feather was trying to force its way out of her body, which caused the swelling.
The girl's father, Aaron Whittington, said Wednesday the baby was home from the hospital. Doctors decided not to treat an enlarged area on her neck that has a hard knot inside it. They say the area will heal on its own.
Doctors say the girl probably had been in a lot of pain for quite awhile. But her mother, Emma Whittington, says her daughter cried only when nurses poked her.
The infant's father said Mya has become something of a media star after the family received numerous requests for interviews to discuss his daughter's unusual medical drama.
Copyright 2012 KCTV (Meredith Corp.) and the Associated Press. All rights reserved.