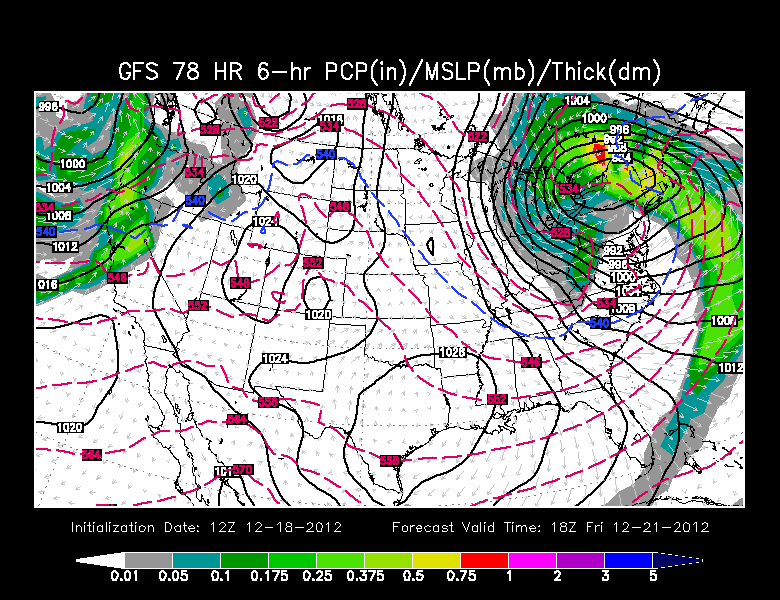 GFS model showing a cold, blustery Friday ahead!
It's hard to NOT like the weather outside right now... but I know many of you are longing for colder days and perhaps some frozen stuff falling from the sky. We'll get a little of both by late in the week. So let me explain!
A front will approach on Thursday, after a very mild and sunny Wednesday. Clouds will thicken up Thursday morning and showers will push in during the afternoon most likely. This is a potent upper level system and associated front, so severe weather was initially a concern. It still is for areas south of us, but it looks like our instability numbers will be a bit low to support much of a severe threat. A few t-storms and heavy downpours will be possible though.
Rain should end for the Upstate Thursday night, while northwest flow will begin in the mountains. It will be a quick round, but counties near the TN border could get a few hours of snowfall as the winds whip out of the northwest at 30-40 mph. By Friday morning, a few lingering snow showers will be left, but the moisture will have mainly been squeezed out. Friday will be a blustery and cold day area-wide, with highs reaching only about 50 in the Upstate (wind chills making it feel like the low 40s) and 39 in the mountains (wind chills in the 20s most of the day).
We will warm slowly through the weekend, keeping temps at about normal for this time of the year. I'm watching some wet weather for next week. We could have some heavy showers for Christmas day or the day after. A White Christmas still doesn't look too promising.