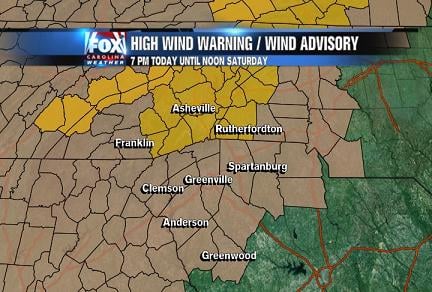 Good morning! The storm system that is leading to Winter Storm Warnings and Blizzard Warnings across the Plains and Great Lakes is going to cause some active weather locally, but for most of us it will be only rain. A few spots in WNC will see some snow and some accumulations into Friday, though - here is the forecast breakdown over the next 24-36 hours:

A cold front slides through later today, triggering our best chances of rain. A few showers are likely this morning and around lunchtime in SW NC and NE GA, but for most of us the best chance of rain will come between 2 PM and 8 PM. We don't have much of a thunderstorm chance, but I wouldn't rule out the possibility of a rumble of thunder.
Most of the area will begin to dry out by 9 or 10 PM, but along the TN border of WNC, we'll see the rain transition to upslope snow showers. NW winds will keep snow falling on these higher elevations through the overnight and during the day Friday. While most of those border areas will pick up only an inch or two of snow, there's the potential of up to 3 inches in the Northern Mountains. Because of that possibility, the NWS has issued a Winter Weather Advisory for Mitchell, Yancey and Avery Counties from midnight tonight until midnight Friday.
Wind will be the HUGE story through the upcoming 36-48 hours. They'll pick up in intensity through the afternoon and evening today, and become especially gusty overnight. Strong winds continue tomorrow, Friday night and early Saturday. They'll begin to relax Saturday afternoon. High Wind Warnings and Wind Advisories have been posted for all of our viewing area counties (see map at right). Counties in the HWW will see wind gusts of 50-65+ mph, while counties under a WA will watch for gusts of 40-50 mph. Make sure all your holiday decorations are secure!
Temps will be a bit above-normal today, rising into the mid 50s in both the Upstate and WNC towns. By tomorrow (which happens to be the first day of winter!), temps will be MUCH colder. Upstate highs will be near 50 degrees, while WNC won't get out of the upper 30s. However, the gusty winds will make it feel much colder - so be prepared for "feels like" temps in the 20s and 30s for most spots throughout the day Friday.