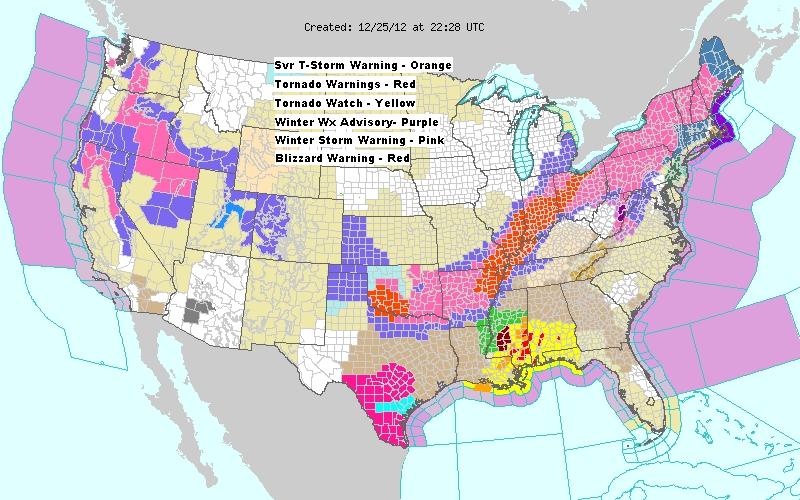 this map was pulled from the National Weather Service at 5:45PM - Christmas Evening
This Evening: Rain will move in this evening and come down heavily periodically. This is just the first round of rain with some even heavier stuff moving our way overnight.

Wednesday AM - 1AM to 11AM: The powerful, low pressure system to our west creating Christmas Day blizzard warnings for portions of Oklahoma, Arkansas, Tennessee and Kentucky will bring strong storms to us. This system is large and very intense.
It looks as if the time to be on guard around here for the possibility of a storm warning for Upstate/Northeast GA/Western NC towns will be mainly between 3am and 11am. Even more likely between 5am and 9am. It will be especially critical to be aware of storms and heed any warning if you live south of Greenville. Temperatures will remain in the 40s for Western NC towns and warm into 50s by Wednesday morning in Upstate towns.
Upstate Clears Out Wednesday PM, Western NC Snow: Rain and storms will move east of us by tomorrow afternoon and the Upstate be left with some breezy conditions while Western NC transitions to some high elevation snow for about a 6-hour window from 6pm to midnight or so. Light accumulations are possible, but complications to travel aren't expected with the short duration of snow.

I'll be in early tomorrow morning to keep you up to date with any warnings and watches issued for our area. Kendra and I have talked (earlier) and will have you covered through the day tomorrow.

______________________________________________________________________________