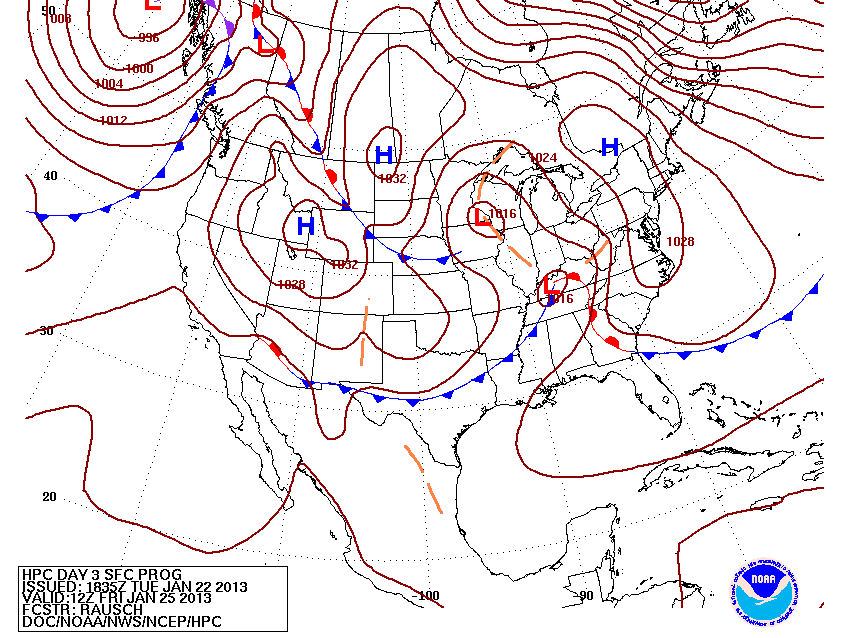 Surface map from HPC for Friday
Under clear skies and light winds, we'll cool down VERY efficiently tonight (meaning FAST!). Lows will drop into the mid 20s for the Upstate and mid teens in the mountains!
We'll steadily warm up, but it will still be pretty cold on Wednesday. Highs will reach the upper 40s in the Upstate and upper 30s in the mountains. A quick moving cold front will sweep through Wednesday night, which could cause some snow flurries and light snow showers near the TN border.
We'll be watching an interested set up for Friday (see attached image). We'll have a high to our northeast, which will help to set up a wedge pattern for us. This means an east wind at the surface that will bring in cool air and wedge it up against the mountains. To our southwest will be a warm front that will lift north over the area through Friday. It's tough to know how much progress the front will make, how strong the wedge will be etc. Here's what we are thinking at this point for our weather forecast Thur. night into Sat. AM:
Chance of light freezing rain in the mountains Thursday night. Friday it should turn to all rain, and in the Upstate it should be mostly a cold rain. A brief time of light freezing rain could happen in the northern Upstate early Friday morning. That's something we'll have to monitor. It will rain off and on through Friday, then a front sweeps through Friday night. That will turn the rain to snow in the mountains late night, and could cause a few flakes of snow to mix with rain briefly on Friday night for the Upstate and northeast GA.
Saturday we'll get the sunshine back and it will be cold once again! Highs only in the low 40s for the Upstate and mid 30s for the mountains.