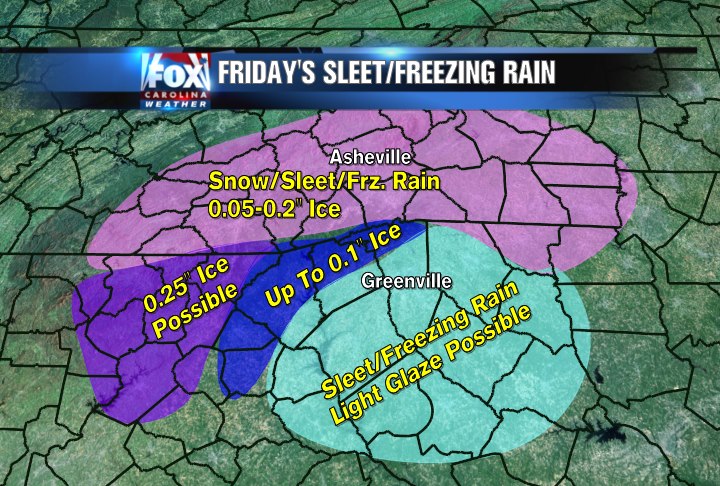 Not much has changed since our last blog post. Computer forecast models are still putting out fairly light amounts of sleet and freezing rain with this system, but enough where roads will likely become hazardous tomorrow... at least in spots. Bridges and overpasses will be most vulnerable to getting that glaze of ice that could cause accidents! Here's the timeline for now:
6am-10am: Mountains get sleet/snow moving in from west to east. Upstate may see some radar returns overhead on Fox Radar 3D, but most of that won't hit the ground.
10am-Noon: Mountains transition to freezing rain (could happen a bit earlier for some spots), Upstate will begin to see some sleet in spots.
Noon-4pm: Freezing rain for much of our area. This will be the best chance for the Upstate and northeast GA to get a light icing. Temps should be at freezing or below until around 4pm in most locations.
After 4pm, some regular rain will develop as surface temps will warm slightly above freezing. We should clear out through the evening hours.
Take a look at the attached image for an idea of what to expect and where. Rabun county will stand the best chance for power outages, downed trees, etc. but that will be borderline. usually it takes 0.25-0.5" of ice to cause devastating issues, and I'm forecasting up to 0.25" there. Not as much for the rest of our area.
We'll continue to update the blog, our web site and facebook/twitter through tonight and tomorrow!