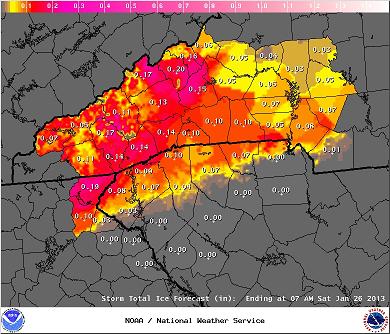 From NWS GSP
Good morning! As of this post (6 AM), we're beginning to see some sleet and snow on FOX Radar 3-D in parts of WNC. While the air at the surface has been very dry and is probably preventing some of this from reaching the ground, I do expect snow and sleet to be falling in WNC by 7 and 8 AM. In the Upstate, we'll hold off on the best chance of precip until lunchtime. Here's the latest forecast timeline:
7 AM - NOON: Snow and sleet through the Northern Mountains and also a few eastern counties (McDowell, Rutherford and Cherokee Counties). The rest of Western North Carolina will see primarily sleet. In the Upstate, sleet showers are possible, especially in northern spots.
NOON - 4 PM: Most of the precip will transition to freezing rain - and much will be confined to WNC. In the Upstate, the best chance of freezing rain will be in the Mountains of Pickens, Oconee and Greenville Counties. Further south and east there will be less moisture to work with, so only a few spotty freezing rain showers are likely this afternoon.
4 PM - 10 PM: Freezing rain will transition to rain as temps work just above the freezing mark. Since temperatures will range between 33 and 34 degrees, this will be a very cold, uncomfortable rain. Like the earlier part of the day, the best chance of precip will come in WNC and NW Upstate spots... with spotty rain south and east of I-85.
As far as accumulations are concerned, I've attached the latest from NWS GSP at right. For perspective, anything around 0.05" or less is fairly insignificant. Once you're around 0.1" you will likely see an icy glaze on bridges and overpasses. Closer to 0.2" there is a higher likelihood of widespread slick roads and isolated power outages (you can see that's limited to a few SW NC spots).
We'll continue to monitor the chance through the day - and we'll pass on any reports we get!