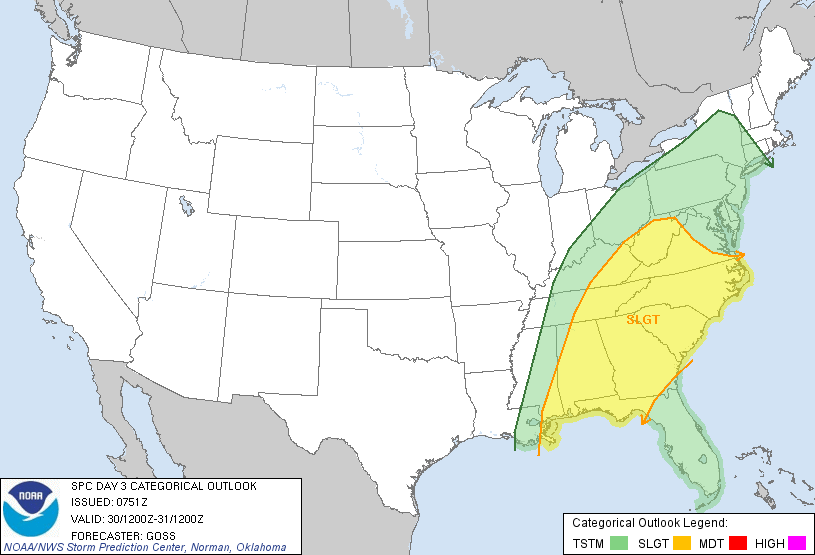 Severe risk in the yellow for Wednesday
All signs point to a line of strong storms for mid-week! We'll have a flood threat, severe weather threat (straight line winds) and area-wide wind threat as the front approaches and passes through. Before the nasty weather gets here, we'll enjoy a very warm Tuesday!
Tuesday we'll see highs soar into the upper 60s for most spots! Clouds will be around, and a few showers will be possible, especially along the escarpment. Moisture builds Tuesday night, so many of us will wake up to light rain Wednesday morning.
Through the day Wednesday, winds will pick up! Sustained winds are expected to be at 15-25 mpg, with gusts over 40! As storms move in toward the afternoon, we'll have the threat of individual storms producing winds over 60 mph. We'll have to closely monitor how the line of storms develops. We could end up with widespread wind issues if a squall line gets going midday. Timeframe: 2pm-6pm as it looks now. With the light rain early on, then the heavy rain with the front, we could get some localized flooding. Luckily the front is expected to swing through fairly quickly, which will help minimize the hydro-threat.
As the front moves through, a northwest flow will set up for the mountains. That will bring snow to spots near the TN border late Wednesday into Thursday morning. That activity will wane briefly, but could ramp back up late Thursday as another quick moving front rides through.
So, bottom line:
- Tuesday: REALLY WARM, slight rain chance
- Wednesday: Very windy, afternoon storms, overnight mountain snow.