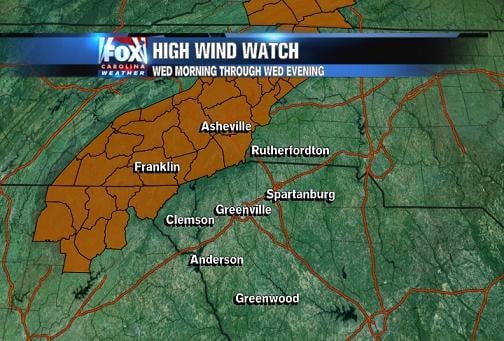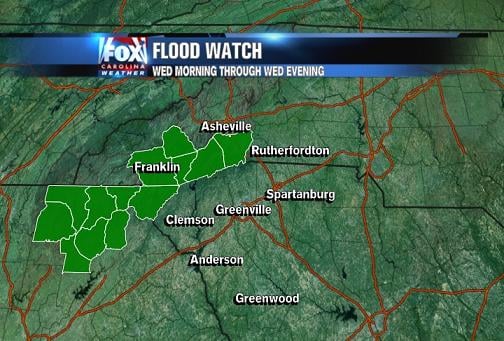 Kendra posted a great blog post last night on what we're expecting today and Wednesday, so I won't repeat much of the nitty-gritty. But, there are a few updates this morning, as the National Weather Service at GSP has already posted some watches for active weather tomorrow.
A High Wind Watch has been posted for most of our Western North Carolina counties (see image at right), which will begin tomorrow morning and continue through Wednesday evening. Southwest wind speeds will be sustained at 20-30 mph, with gusts as high as 50 or 60 mph.
In addition, several WNC and NE GA Counties will be under a Flood Watch tomorrow - also in effect from Wednesday morning through the evening (see specific counties at right). Rainfall totals of 2 inches or higher are possible tomorrow, which could lead to some flooding - particularly in SW NC.
Finally, here's the latest Convective Outlook for Day 2 (Wednesday) from the SPC. We are still within the 'Slight Risk' area, as severe chances will be elevated tomorrow. Gusty, damaging winds will be the main threat within storms, but an isolated tornado will also be possible. We'll be updating you on the threat over the next 24-36 hours... and we'll have the Weather Center "manned" throughout the day tomorrow!