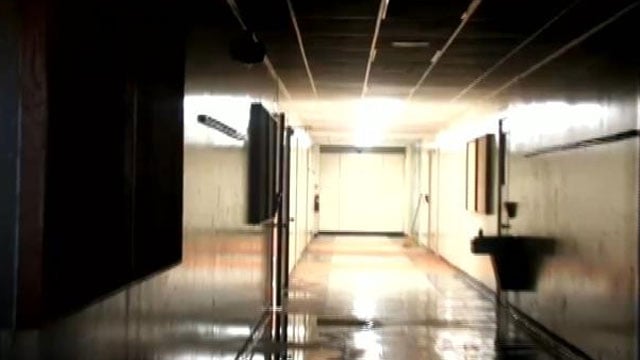 Fluorescent lights glow in the halls of the vacant Chesnee Elementary School in this image taken from Kevin Turner's documentary. (YouTube)
CHESNEE, SC (FOX Carolina) -
A Chesnee man thinks wasted tax dollars are being spent on the old Chesnee Elementary School.
The school has been closed down for nearly three years, and Kevin Turner said tax dollars are being wasted by keeping power and water running through the school. So he and a friend, Robbie Buhl, made a documentary and posted it on YouTube. He said they hope something productive will be done with the empty school.
"I'd just like to see it get put to use by someone. My grandmother graduated from that school, so I've got a lot of sentimental value in it," Turner said.
Fox Carolina reached out to the school district to get their take on the matter. The superintendent of Spartanburg District 2, Dr. Scott Mercer, said the building is for sale and while it's on the market they have to keep the utilities on.
"We have kept the power on in the building because in the winter time you don't want the pipes to freeze so you got have a low level of heat at 50 degrees, and then in the summer time the air is on to prevent mold from building up in the building," said Mercer.
Mercer said he hasn't heard of any complaints or even about the video.

Copyright 2013 FOX Carolina (Meredith Corporation). All rights reserved.