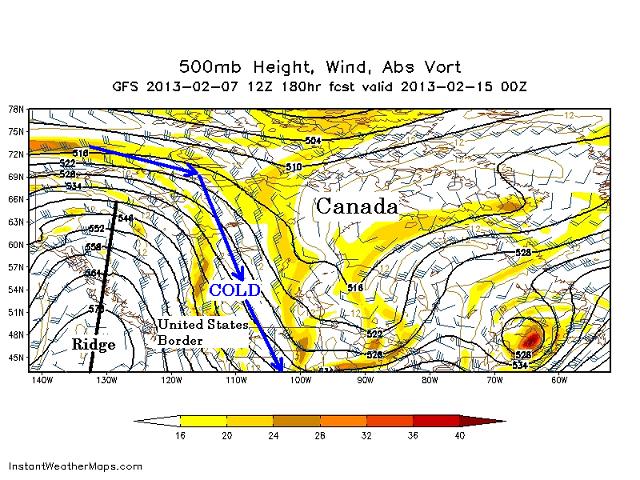 today's 12z GFS forecast model (Canada view)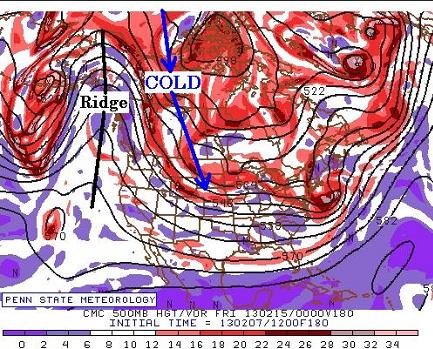 today's 12z Canadian forecast model (US view)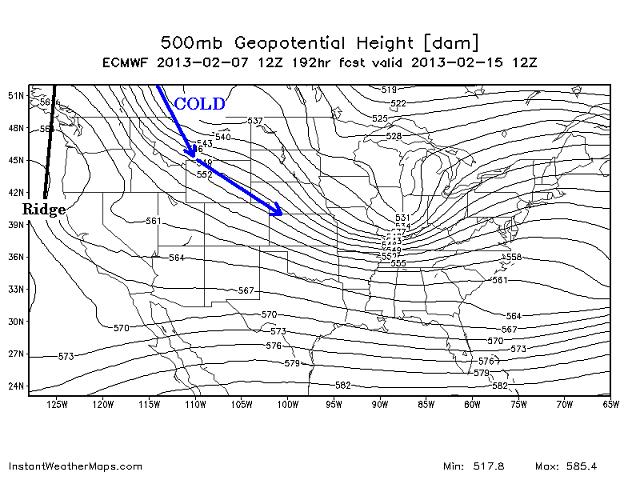 today's 12z European forecast model (US view)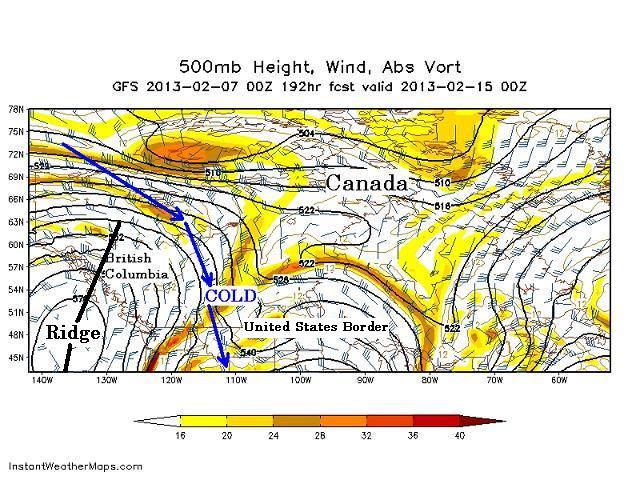 yesterday's 0z GFS forecast model (Canada view)
Beyond the 7-Day: With a rainy day unfolding outside and the thoughts on the next seven days given within the previous posts, I figure it's a good idea to take a mental note of some things worth keeping an eye on past seven days in advance (around the 15th through 20th).
As you look at the images on the right side of this page, you are looking at various forecast model projections around the 15th of this month. The 15th would be around day eight.

You'll notice that every model agrees in a west coast ridge developing and nosing vertically toward British Columbia and even western Alaska. This, in turn, promotes a dip in the jet stream as arctic air sinks south and east (over and down the eastern side of that ridge in the west).
What we also know is the southern oscillation index has gone back negative during the last week. A negative southern oscillation (SOI) indicates a situation where pacific moisture is available for enhancing moisture output from any system rolling across the country. The SOI has been negative recently and it's no surprise we have had flooding rains recently.
With a vertical ridge out on the west coast promoting cold, arctic air and active southern energy from the Pacific opens up the potential for a southern storm track and winter weather potential around here. Nobody knows whether we will have some snow mid-late month, but I will guarantee that for snow to be a possibility around here at all, the two factors mentioned above HAVE to be locked into place. We'll wait and see on the Atlantic to see if it (the flow upstream/ahead of us) cooperates.
Until then, it's safe to say that the groundhog was wrong and we still have some winter temperatures coming our way. It's hard to say how long those winter temperatures will last.

__________________________________________________________________________