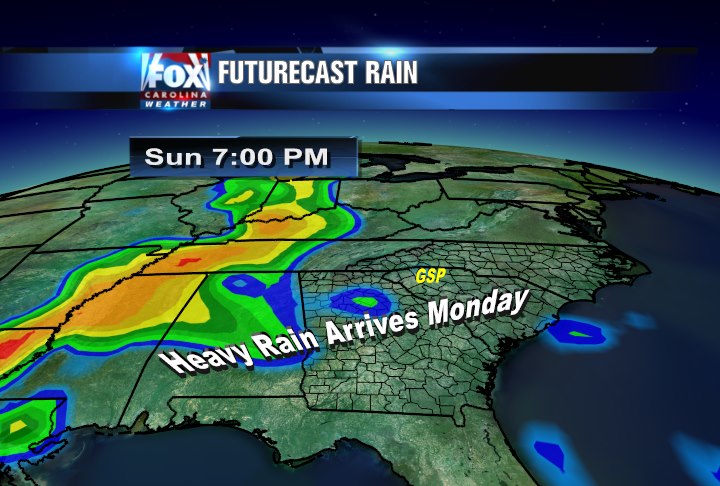 Heavy rain is poised to move in late Sunday into Monday AM
A front is moving through now, and that will bring some highs winds to the mountains tonight! Gusts over 40 mph will be possible. In the Upstate it will be mildly breezy at times, and temps will be cold. Lows will be down to 31 for the Upstate and 24 in the mountains.
Saturday = Gorgeous! Sunny with a highs in the 50s. Enjoy it...some not so awesome weather is coming late Sunday into early next week!
A front will move in late Sunday, bringing light rain showers at first toward Sunday afternoon and evening. Then, heavy rain will develop overnight as the front and some strong upper level energy moves though. We'll probably start Monday with off/on rain, then clear through the day. Since we should notice clearing through Monday, the flood threat won't be terribly high. Another round of rain will come through late Tuesday as a low pressure moves along the front that passed to our south.
So, best chance for rain will be Sunday night and Tuesday late day-overnight.
We'll be monitoring the storm in New England. 2-3 Ft. of snow will be possible around Massachusetts, and it will be snowing from now through midday tomorrow!