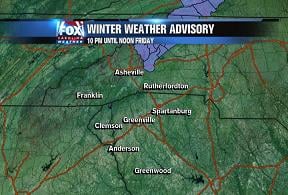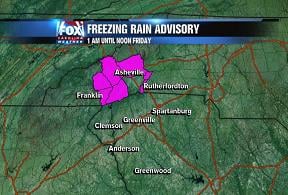 Good morning! Temperatures are off to a cool start, but it's been a pretty quiet morning and your drive should be problem-free (at least as far as the weather is concerned!). In fact, most of the day will be tranquil, with plenty of sunshine early and an increase in clouds by mid/late-afternoon. Temperatures will be comfortable, rising into the mid 50s in WNC and near 60 degrees in the Upstate.
Post-sunset, we'll begin to see precipitation roll into the area - mainly in WNC. Through the late evening and overnight, most of what we'll see will be rain. However, northern parts of our mountain territory will have to watch for a wintry mix of snow, sleet and freezing rain.
A few counties are under a Winter Weather Advisory from 10 PM until noon Friday (see graphic at right). These counties could see up to an inch of snow/sleet and up to 1/10 inch of ice through the overnight and Friday morning commute - so these are the areas where I'd be most concerned about slick roads tomorrow AM.
Other WNC counties will be under a Freezing Rain Advisory from 1 AM until noon Friday (image at right) - this mostly affects the high elevations of these counties. In these spots, a light glaze of ice will be possible early Friday - especially on elevated surfaces like bridges and overpasses.
The rest of the area will see rain showers overnight and Friday morning, and the entire area will keep rain showers in the forecast Friday afternoon. Skies stay cloudy and temperatures will be CHILLY tomorrow - only reaching the low/mid 40s during the afternoon. Some heavier showers are possible Friday night into early Saturday (especially in the Upstate and NE GA)... and scattered rain will linger through the start of the weekend.
We'll FINALLY see some sunshine by the end of the weekend - and Sunday highs will rise into the low/mid 60s in the Upstate and the upper 50s in WNC.