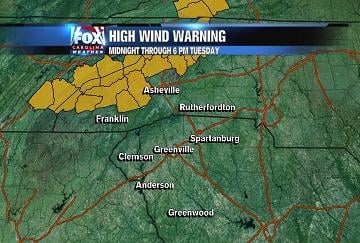 Good morning! After a BEAUTIFUL Sunday, clouds are building in for our Monday - so don't expect the blue sky and sunshine to continue today. However, most of the daytime hours will remain dry today, as the best chance of rain holds off until the evening hours.
Rain will start to advance in for most areas post-sunset, starting in the south and pressing northward. By the overnight hours, most will be seeing the rain - with some heavy downpours possible in our Upstate and NE GA counties. Rain will persist through the AM hours on Tuesday, so prepare for a soggy, gloomy morning commute and wait at the bus stop. Rainfall totals will likely total between 1 and 1.5 inches, with the higher amounts in NE GA and Upstate counties.
In addition to the rain, we'll see winds pick up later today and tonight. The winds will be especially strong/gusty in WNC, primarily the high elevations. A HIGH WIND WARNING has been posted for elevations over 3500 feet in our TN border counties (see graphic at right), where gusts could be as high as 60 or 70 mph - that could cause some damage! Elevations below 3500 feet will deal with gusts between 40 and 45 mph.
Rain tapers off for most late Tuesday, with quieter weather for the Upstate and NE GA through the remainder of the week. The exception will be the TN border areas of WNC, where upslope snow showers are likely Wednesday through Friday.