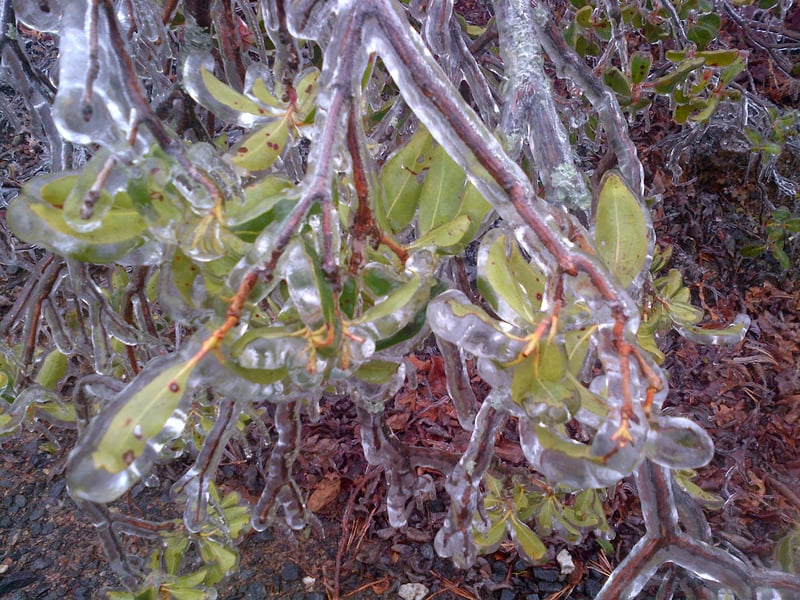 A pic of Black Mountain ice from yesterday, from Steve Zuk
The old familiar term to our mountain dwellers... "northwest flow snow event"! We haven't gotten as many of these in the past couple of winters, but tonight through Saturday will prove to be a classic scenario where northwest winds help to develop snow along the TN border. It won't be all that heavy, but should be persistent for a couple of days! 3-6 inches of snow will be possible by late Saturday, especially for spots like Madison, Mitchell and Yancey counties.
Enough upper level energy will drive south on Saturday to bring lift and snow potential to the Upstate. Our computer models are doing a nice job of lining up for Saturday's forecast. Here are the consistent things I'm seeing:
- Light amounts of moisture
- Heaviest/best chance of snowfall would be Saturday evening
- Saturday will be a cold and blustery day!
I looked at bufkit soundings for the 12z GFS... this helps me get an idea of snow totals, and how the different layers of the atmosphere are looking. At this point, a dusting looks like a good bet, while some heavier snow showers could set up bringing localized amounts up to an inch. It doesn't look as heavy as a couple Saturdays ago. This could easily be a day when we don't get any accumulation, but just see some flakes flying off and on through the day. With such light amounts of moisture, and the direction from which it is coming (northwest), I'm inclined to think that it won't be a big deal at all for us.
European model shows a period of brief moderate snow showers late day on Saturday, while GFS, Nam and Canadian keep it very modest.
Stay tuned and we'll be updating our thoughts through the week! Andy will be on the morning show starting tomorrow, and will bring you daily blog posts too!