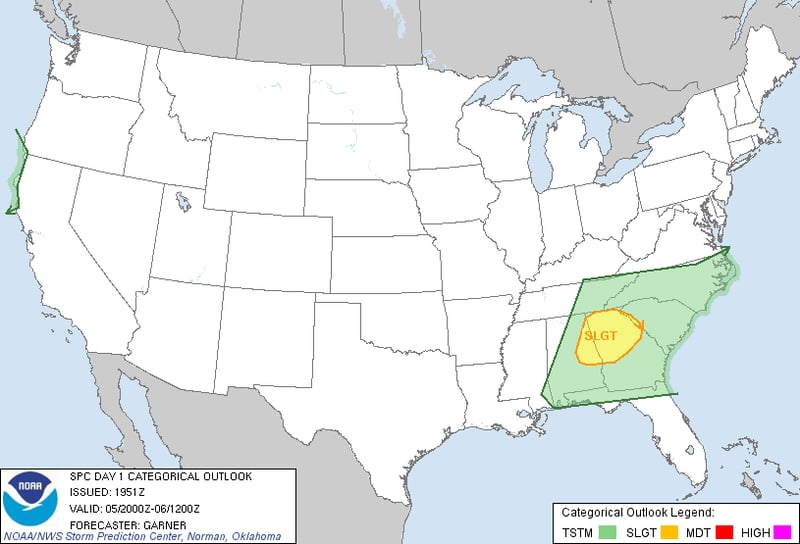 Slight risk of severe storms for northeast GA and extreme western Upstate
As a low pressure approaches, we've seen severe storms develop in Alabama and Georgia. Those storms should be their strongest while in central GA, then weaken slowly into tonight. But, we do have some energy and plenty of wind shear at play across the western Carolinas, especially south of I85, so a few storms could hold on and rumble through during the 7-10pm timeframe. Damaging wind will be the greatest threat, but an isolated tornado or hail can't be ruled out.
The cold side of the system will bring heavy snow to the mountains after 10pm tonight. 6-8 inches of snow, whiteout conditions and dangerous wind chills will be possible near the TN border in the Winter Storm Warning area, while around Asheville and Hendersonville we'll be looking at gusty winds and generally light accumulations of snow. A few flakes will mix in with rain in the Upstate after midnight briefly before the system clears the lower elevations spots.
Overnight we could get gusts in the Upstate of 20-25 mph, while in the mountains winds could exceed 35 mph.
The snow will continue off and on in the mountains through Wednesday. Watch for hazardous road conditions both Wednesday and Thursday. Then, a nice warm-up arrives to bring us a spring-like late week and weekend!
It's still severe weather awareness week, and here's the latest from National Weather Service @ GSP on tornadoes and safety:
TODAY WE BEGIN A TWO PART SERIES ON THE DANGERS POSED BY TORNADOES. TORNADOES ARE CLASSIFIED INTO THREE BASIC CATEGORIES...WEAK... STRONG...AND VIOLENT. THE VAST MAJORITY OF TORNADOES IN THE CAROLINAS...APPROXIMATELY 80%...ARE OF THE WEAK VARIETY. WEAK TORNADOES ARE TYPICALLY SMALL AND VERY SHORT LIVED...LASTING 5 MINUTES OR LESS...AND GENERALLY AFFECT AN AREA LESS THAN ONE SQUARE MILE. NEVERTHELESS WIND SPEEDS OF 60 TO 100 MPH PRODUCED BY THESE TORNADOES CAN CAUSE LIGHT TO MODERATE STRUCTURAL DAMAGE TO PERMANENT BUILDINGS AND CAN SEVERELY DAMAGE OR DESTROY MANUFACTURED HOMES... ESPECIALLY IF THEY ARE NOT TIED DOWN. AS WITH SEVERE THUNDERSTORM WINDS...ONE OF THE GREATEST DANGERS POSED BY WEAK TORNADOES IS FROM FALLING TREES. THIS ILLUSTRATES AN IMPORTANT POINT...THE TYPICAL CAROLINAS TORNADO PRODUCES WIND SPEEDS AND THEREFORE DAMAGE SIMILAR TO DOWNBURSTS. THIS IS ONE OF MANY REASONS WHY SEVERE THUNDERSTORM WARNINGS SHOULD BE HEEDED AS READILY AS TORNADO WARNINGS. THERE ARE SEVERAL FACTORS COMMON TO THE CAROLINAS THAT MAKE EVEN WEAK TORNADOES DANGEROUS. ONE IS THE NATURE OF THE TERRAIN AND VEGETATION IN OUR PART OF THE WORLD...WHICH MAKE IT ALMOST IMPOSSIBLE TO SPOT TORNADOES FROM A GREAT DISTANCE. ANOTHER IS THE FACT THAT HAZE TYPICALLY AFFECTS THE REGION DURING THE WARM SEASON...FURTHER HINDERING THE CAPABILITY OF SEEING TORNADOES. COMBINE THIS WITH THE TENDENCY FOR SOUTHEAST TORNADOES TO BECOME OBSCURED BY RAIN AND TO OCCUR AT NIGHT...AND WE ARE FACED WITH THE FACT THAT WE ARE UNLIKELY TO ACTUALLY SEE A TORNADO COMING. ALTHOUGH DOPPLER RADAR AND OTHER SCIENTIFIC AND TECHNOLOGICAL ADVANCES HAVE GREATLY IMPROVED THE ABILITY OF METEOROLOGISTS TO PREDICT THE DEVELOPMENT OF STRONG AND VIOLENT TORNADOES... ANTICIPATING THE DEVELOPMENT OF WEAK TORNADOES CONTINUES TO POSE A GREAT CHALLENGE...EVEN TO EXPERIENCED FORECASTERS. THE STATUS OF THE SCIENCE IS SUCH THAT SOME WEAK TORNADOES WILL OCCUR WITHOUT WARNING. IN FACT...RECENT STATISTICS HAVE SHOWN THAT THE NATIONAL WEATHER SERVICE ISSUES TIMELY WARNINGS FOR AROUND 90 PERCENT OF STRONG AND VIOLENT TORNADOES...BUT FOR LESS THAN 70 PERCENT OF WEAK TORNADOES. THIS IS DUE TO THE FACT THAT THE CIRCULATION IS OFTEN TOO SMALL... TOO SHALLOW...OR DEVELOPS TOO QUICKLY TO BE DETECTED BY WEATHER RADAR. THIS IS ONE OF MANY REASONS WHY THE NATIONAL WEATHER SERVICE CONTINUES TO DEPEND HEAVILY ON PEOPLE FOR ACTUAL REPORTS OF DAMAGE OR OBSERVATIONS OF TORNADOES OR OTHER SEVERE WEATHER. A PAIR OF EYES REMAINS OUR MOST VALUABLE TOOL IN THE WARNING PROCESS. WEAK TORNADOES MAY OCCUR WHEN A SEVERE THUNDERSTORM WARNING IS IN EFFECT...OR WHEN ONLY A TORNADO WATCH IS IN EFFECT. THIS IS ONE OF MANY REASONS THAT IT IS SO IMPORTANT TO MAINTAIN HEIGHTENED AWARENESS WHEN A TORNADO WATCH IS IN EFFECT. YOU SHOULD ALWAYS REACT TO A SEVERE THUNDERSTORM WARNING...BUT THIS IS ESPECIALLY TRUE WHEN A TORNADO WATCH IS IN EFFECT. THE SAFEST LOCATION DURING A TORNADO IS AN UNDERGROUND SHELTER. IF ONE IS NOT AVAILABLE...GO TO AN INTERIOR ROOM...CLOSET...OR HALLWAY. YOUR GOAL SHOULD BE TO PLACE AS MANY WALLS AND FLOORS BETWEEN YOU AND THE OUTSIDE AS POSSIBLE. COVER YOURSELF WITH BLANKETS OR SIMILAR ITEMS TO PROTECT YOURSELF FROM FLYING DEBRIS. IF YOU ARE IN A VEHICLE...YOU SHOULD ABANDON THE VEHICLE IF YOU CAN GET BELOW THE LEVEL OF THE ROAD. OTHERWISE...FASTEN YOUR SEAT BELT AND DUCK BELOW WINDOW LEVEL. COVER YOUR HEAD WITH A BLANKET IN ORDER TO PROTECT YOURSELF FROM FLYING DEBRIS. MOBILE HOMES SHOULD BE ABANDONED FOR A STURDIER SHELTER. THEY OFFER LITTLE IF ANY PROTECTION FROM EVEN THE WEAKEST TORNADOES. IF YOU LIVE IN A MANUFACTURED HOME...NOW IS THE TIME TO THINK ABOUT WHERE YOU WOULD GO IN THE EVENT OF A TORNADO. DO NOT WAIT UNTIL A TORNADO IS APPROACHING TO DECIDE...IT WILL BE TOO LATE. FOR MORE INFORMATION ON ASSEMBLING AN EMERGENCY SUPPLIES KIT...VISIT NOAA.GOV/WRN.