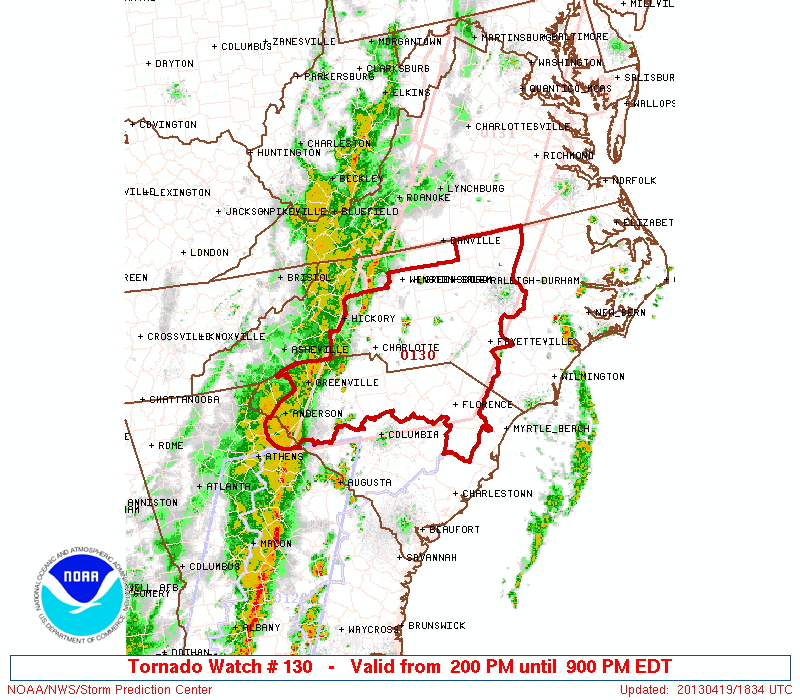 We're closely following a broken line of storms moving through our area. A Tornado Watch has been issued and is seen above within the red outlined area.
A Tornado Watch has been issued by the Storm Prediction Center which covers a portion of the Upstate and northeast Georgia until 9:00PM. However, the main threat (a minimal threat) will be storms capable of producing wind damage.
As of mid-afternoon, I'm closely monitoring a strong, bowing line of storms which has moved through portions of northeast Georgia and also part of the southern Upstate of SC. This line has shown signs of being capable of producing wind damage.

Again, wind damage is the primary threat this afternoon. Even though there's a Tornado watch in effect, conditions are only marginally conducive for the development of a tornado within one of these bow echoes or line segments pushing through our area. We are not going to have any rotating super cells today, which is good news.
Importantly, there's a very slim chance for a tornado - SPC has it at 5% chance within 50 miles of a point or town.
____________________________________________________________________________