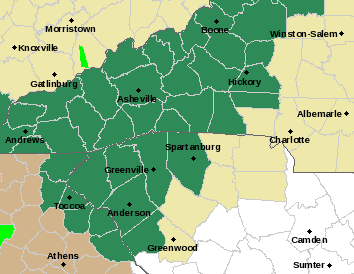 Tonight/Early Sunday: Heavy rain continues to overspread the Upstate and western NC, with lighter showers moving in toward midday. 2-4" of rain expected overnight, with isolated areas seeing 4-5", highest amounts in the mountains.

A Flood Watch has been issued for Greenville, Pickens, Oconee, Spartanburg, Anderson, Abbeville, Elbert, Hart, Stephens, Franklin, and all of western NC. This comes into effect Sunday afternoon as we watch stream and creek levels rise with the end of the heaviest rains.

Cooler than average temperatures in the 50s and low 60s remain through Sunday and Monday, which is about 15° below where we typically are this time of year. The sun will return to the Upstate this week, but not until about the middle of this coming week. Warm temperatures take a little longer to get back to us, but by the end of the week heading into the weekend we should see the cold pattern break and temperatures will be back into the mid to upper 70s.