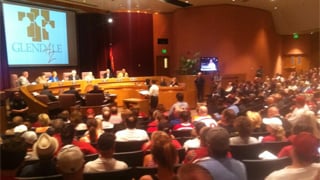 Packed house for Glendale's vote on the Phoenix Coyotes. (Source: Mark McClune, cbs5az.com)
GLENDALE, AZ (AP) -
A group trying to buy the Phoenix Coyotes has partnered with the firm that owns the Philadelphia Flyers to promote and operate Jobing.com Arena.
Renaissance Sports & Entertainment, which has an agreement to buy the Coyotes from the NHL, announced Tuesday that it will work with Global Spectrum to help manage the Glendale arena.
The announcement came hours before the Glendale City Council was to vote on a 15-year, $225 million lease agreement with RSE for Jobing.com Arena.
Global Spectrum manages 113 facilities worldwide, including the Wells Fargo Center, where the Flyers play, and University of Phoenix Stadium, the home of the Arizona Cardinals that's in the same Westgate Entertainment District as Jobing.com Arena.
Should the council approve the 15-year, $225 million deal for Jobing.com Arena, the path will be cleared for the Coyotes to stay in Arizona.
If the vote is against the lease deal, the Coyotes are likely headed out of town for good, possibly to Seattle.
NHL Commissioner Gary Bettman has said the Coyotes likely won't be playing in Arizona if the lease deal isn't approved.
Copyright 2013 Associated Press. All rights reserved.