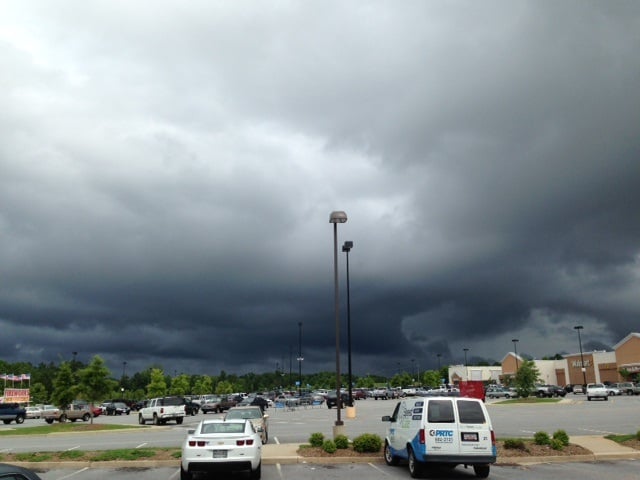 From Christie in Laurens
A Flash Flood Watch is out for our area until 8PM tomorrow night. The Bermuda high out in the Atlantic is helping to funnel in some seriously moist air, while a stationary boundary is focusing showers and storms along the eastern half of the country. Slowly, our rain chances will go down as the front drifts to the west, but that won't happen until the 4th of July at the earliest.
1-3 inches of additional rain will be possible between now and tomorrow night. The picture attached to the post shows a scene that is reminiscent of severe weather... but in this case isn't not a severe storm. The VERY dark color to the clouds and lower nature are all because of the high moisture/tropical feel to the air. We'll see a lot of low hanging and ominous clouds through this week, while the severe threat won't be high. There will be the chance for a few stronger storms, but the main threat will be heavy rain.
So, Wednesday expect occasional heavy rain. Then by Thursday it should be more scattered and focused in our western sections. July 4th shouldn't be a total washout, but we will have storms around, especially in the afternoon.