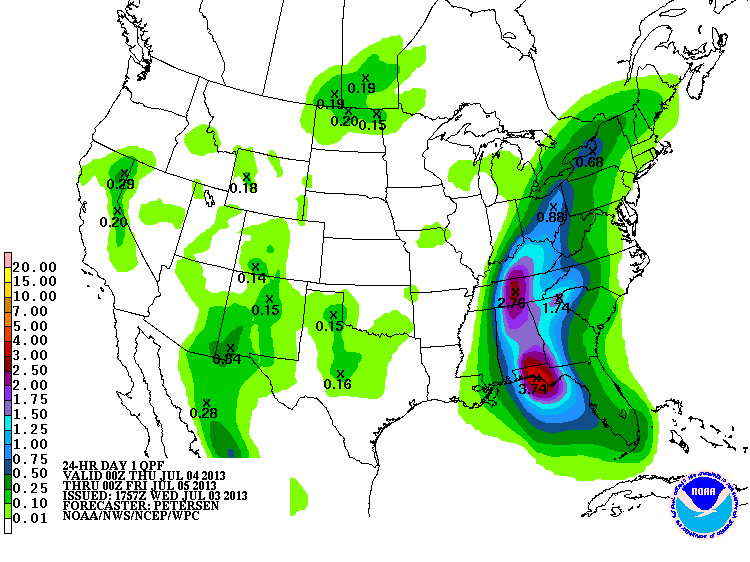 Rain total prediction for the next 24 hours
The forecast for heavy, flooding rains has all depended on the placement of a front that is "stationary", but not really... it's drifting west. As it does, it is pulling the heavy rain and training t-storms with it. That front is over central TN now, and it's drawing up moisture to it's east. Currently (as of 3:23PM) the heavy rain is falling over Atlanta and stretching north to Knoxville. It's in eastern TN and north central GA where I think major flooding could occur over the next 24 hours. Take a look at the picture attached to the post...the 2 bullseyes for heaviest rain occur in central TN and the Fl panhandle as the front keeps drifting west over the next day.

For us, I'd say we are looking more primed for some localized, minor flooding. We will still get some heavy downpours and periods of persistent rain, but the long duration heavy rain event looks to occur just west of us. The western mountains (Macon, Swain, Graham and Jackson counties have the best chance of seeing flooding).
What does this mean for July 4th? Well, there's still a good chance for rain, but I don't think it will wash-out any major events. It will likely be an inconvenience, as we'll have scattered showers and a few t-storms. Highs will be not-so-hot once again in the upper 70s to low 80s. At least that part is enjoyable!