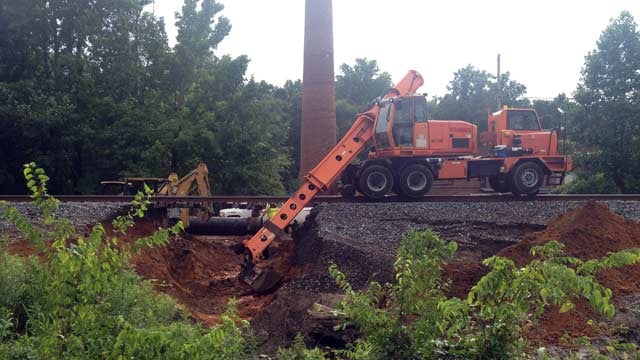 The washed out railroad tracks. (July 13, 2013/FOX Carolina)
PENDLETON, SC (FOX Carolina) -
The rain just keeps coming in some parts of the Upstate and an early morning storm Saturday produced up to nearly nine inches of rain in the Clemson and Pendleton area.
Pendleton Fire Chief Bobby Pruitt said two vehicles were washed off of the road early Saturday, three people that were inside had to be rescued from the water.
The rain flooded a creek on Warbranch road in Clemson, bringing the water up three to four feet, washing out the road.
Pickens County Emergency Management said four families were temporary displaced until the road is repaired.
Parts of a Norfolk Southern Rail Line were also damaged by the storm. Pendleton Water Works has issued a boil water advisory for the town's residents.
They recommend that people boil their water for at least one full minute before consuming or cooking with water until further notice.
Officials say it's due to a broken water main that was a result of all the rain Saturday morning.
Copyright 2013 FOX Carolina (Meredith Corporation). All rights reserved.