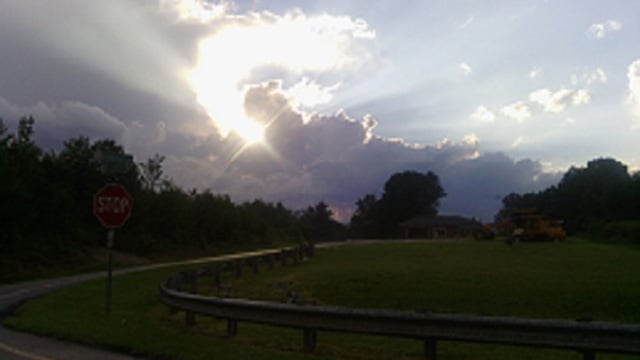 From Kelly in Landrum yesterday
We'll see more scenes like the picture with this post going into this evening, Saturday & Sunday. Today we are in a transition phase, going from a fairly stable environment, to a more storm-prone environment. As we get into the evening, storms will become more numerous around the Upstate and mountains. Our severe threat won't be as high as yesterday, but we could still see a few strong thunder-boomers out there.
An upper trough and associated cold front will be moving closer tonight and tomorrow, and that will help to keep showers and storms around. In fact, we may have some showers lingering into the late night hours! Severe threat overnight will be low luckily.
Saturday watch for storms firing as the front approaches from the west. Some of our models are showing a complex of heavy storms over our area during the evening hours Saturday, while others are showering scattered activity through the day. Take home message - there's a better chance than not that you WILL see rain at some point on Saturday.
Sunday we'll have a slightly lower rain chance, but I still expect scattered storms Sunday afternoon as the front will be lingering around our area. It may clear us by Sunday night, leaving a dry Monday (here's hoping!)
Andy is enjoying some much-deserved time off, so I'll be covering storms Saturday, while Nicole will be at the helm on Sunday! Email your weather pics to us through the weekend to weather@foxcarolina.com!