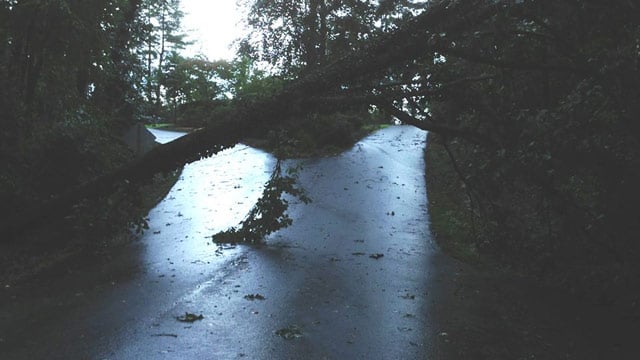 Tree down in Seneca, from Katey Whitesel
With the sunshine we saw throughout the morning, the showers that developed were able to blossom into strong t-storms today! We've had some isolated wind damage, but mostly lots of heavy rain and lightning. Expect scattered storms to be around through this evening, with a slow clearing overnight.
Friday is looking similar to Thursday, where we'll start dry, then a few storms will roll through during the afternoon and early evening. If you are hitting a high school football game, you'll run the risk of getting wet, but rain chances should go down once the games get started!
This weekend high pressure will build in, so we'll only have a 20% chance of storms Saturday, then a TOTALLY dry Sunday as it looks now! AND, humidity will be lower!!! Hope you can enjoy some time outside, especially late in the weekend! Saturday night is the Beach Ball Foundation fundraiser and it will be outside... luckily it looks like only spotty storms will be around and temps should be comfy in the 70s!