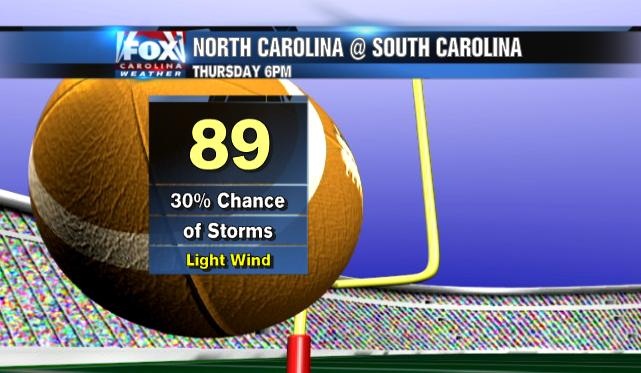 It's here! We had a great kickoff to High School Football last week, and this week the colleges join in. Thursday night we've got North Carolina @ South Carolina, so all eyes are on the weather. After a fall-like feel to the outdoors over the last week or so, we're back into the full summertime feeling with heat and humidity. Today, expect partly cloudy skies and highs Upstate near 90°, with lower 80s in the mountains. As the heat builds, we bring back a chance for afternoon thunderstorms. This will be more likely in the mountains today, but there is still an isolated chance in the Upstate.
Thursday, once again partly cloudy skies stick around, and a "cool" front will move through from north to south. This means, as the heat builds into the low 80s to 90°, the cool front will create enough instability to spark showers and thunderstorms throughout the day, especially in the afternoon. Now, we are watching the weather closely for that North Carolina @ South Carolina game in the Columbia, and it is going to be a HOT kickoff close to 90°, with a chance for some of those storms to still be around. For the most part, that area of the state should stay dry, so I don't think there's any concern of a canceled game, but a quick storm at the right time could cause a delay.
Labor Day Weekend: If you're planning on getting out to Georgia @ Clemson, or just having a late summer BBQ with friends and family, you're in luck! It is going to be hot and humid once again this weekend, with low 80s in the mountains and upper 80s in the Upstate, with a slim chance for a passing storm on any day Friday through Monday. Not near a TV? Download our FOX Carolina app for a quick look at the radar while you're out and about enjoying the weekend!