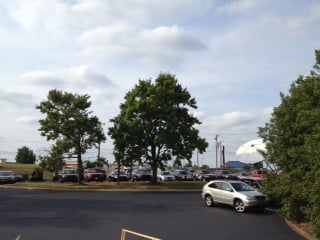 A mix of clouds and sun at Fox Carolina
The cool air wedge will remain in place across the Carolinas and Georgia through tomorrow, which means that cool northeast breeze will remain in place and we'll keep a mix of clouds and sun around! By Thursday and Friday, the wedge will break down and we'll get some warming as high pressure temporarily dominates our weather. Rain chances will be small, but we'll have a few isolated showers each afternoon on Thursday and Friday.
By the weekend, another cold front will approach. Our computer models aren't in very good agreement about how much rain we'll see, but they all so some form of rain for Saturday into Sunday. There's a chance that we could get a few hours of heavy rain late Saturday night or early on Sunday, but it could just be scattered light rain showers. A low develops along the front, and where that low tracks will really determine what we see. So, at this point I'd plan for a little rain this weekend, and keep in mind that Sunday morning and afternoon could end up being a washout!
We'll keep an eye on how the computer model forecasts evolve over the next couple of days, and hopefully we can pinpoint the timing and intensity of the rain by late week!