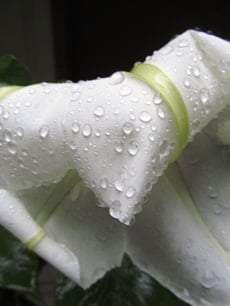 Thanks to Kathy Wilson for the pic!
Beautiful pic of the moonflower dotted with raindrops! We'll see more dots of rain on our flowers, cars, rain jackets, etc tomorrow! It shouldn't be too heavy through tomorrow. A low pressure will track to our south, and that will keep the heaviest downpours closer to the Gulf of Mexico. But, we'll still see off and on light to moderate showers as the low travels across the southeast and an upper level trough swings through.
Best chance for rain will come tomorrow afternoon as it looks now, but we'll be watching for showers as early as midnight tonight through Thursday morning. We should clear nicely through the day Thursday, then high pressure will take back control of the weather for Friday and the weekend!
I hope you had a great weekend! It was nice to spend some time INSIDE on Saturday, then OUTDOORS on Sunday! We took our daughter Stella apple picking for the first time. She loved it! The weather was perfect for having a baby outside as well! Now we have tons of apples sitting at home, and I need to figure out what to do with them LOL!