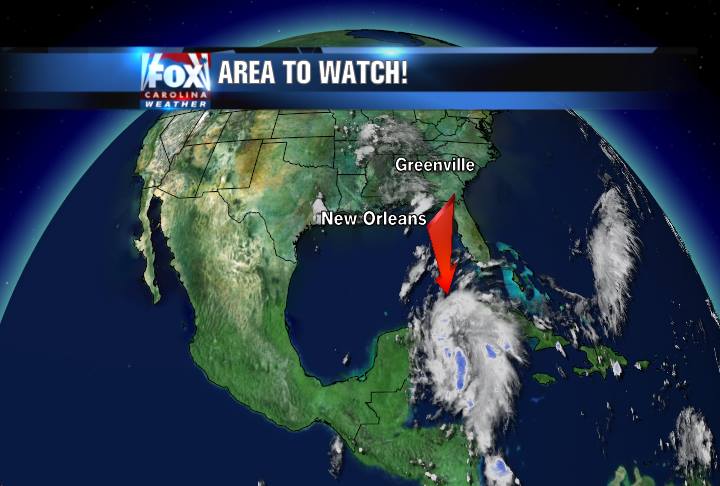 For the next few days we'll stay heavily influenced by high pressure! Therefore, the warmer than normal and mostly dry days will continue into Friday! In fact, it may stretch into Saturday and parts of Sunday too at this point!
I've been monitoring all of the computer model forecasts for the potential tropical system and cold front for the weekend. It looks like a possible landfall would occur sometime late Saturday or early Sunday along the gulf coast, then the moisture would get transported northward as a cold front moves into the Carolinas. The combination of the front and tropical system could bring torrential rain or just light rain showers, depending on the track of the tropical system and timing of the front. Right now, I think the best bet would be for our area to start seeing rain Sunday afternoon/evening, and it would last into Monday. Most of the model solutions keep our severe threat fairly low, but there's a chance that if the system tracks just to our northwest that we could get a tornado threat.
So, right now I think Saturday should be MOSTLY dry, and Sunday probably won't be a total washout. We'll watch for rain moving in after 3pm Sunday, but this is all subject to change as the forecast models get a better handle on the disturbance in the Caribbean. Right now, with the disturbance being weak, it is very difficult for models to forecast. Plus, when it moves into the gulf, it may not be able to develop much further because conditions will not be too favorable for storms strengthening.
So, take home message is to keep up with the forecast! Nicole and I will continue to update the blog and our weather page with the latest!