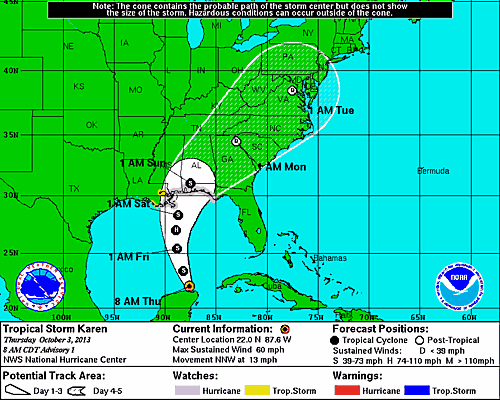 Not a bad start to a Thursday, we have partly cloudy skies Upstate, with mostly cloudy skies in Western NC. An isolated shower is possible in the mountains, but it would stay on the far western edge, generally near Graham, Macon, and Swain counties. Highs today reach the upper 70s to low 80s.
Friday and Saturday should feature dry weather for all of us, with partly cloudy skies and highs reaching the upper 70s to middle 80s.
Sunday is when we need to start paying close attention to the weather setup. Tropical Storm Karen has officially formed in the Gulf of Mexico, and though conditions aren't favorable for major strengthening, she still could bring us some locally significant weather. Right now, Karen is located off the Yucatan Peninsula with winds up to 60mph. She'll continue to move into the central Gulf over the next few days. Sunday, we're expecting a cold front to move through our area, and it could end up pulling some of the tropical moisture into the Upstate, Western NC and NE Georgia as Karen makes her way to the Gulf Coast. We're watching it closely, as the ground is relatively dry right now, and we could see isolated flooding incidents if the two systems combine at the perfect time.