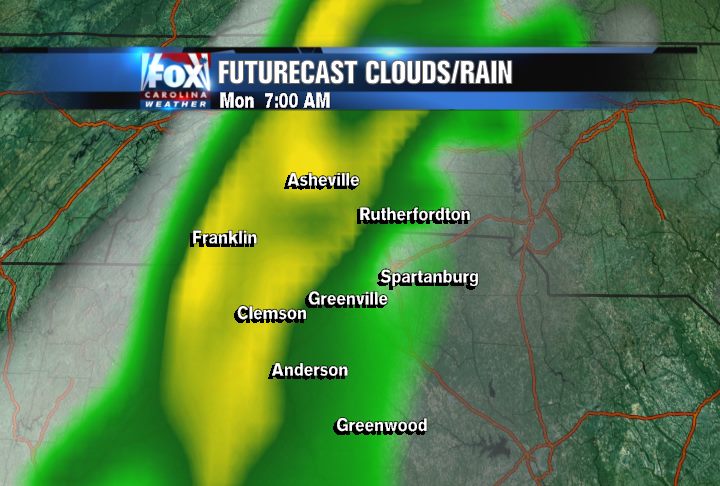 Futurecast for Monday morning
What some might call our first TRUE fall cold front is moving in tonight! There's a lot of cool air behind the front, so that is clashing with the warm air ahead of it in the southeast. The clashing will help to fuel some strong thunderstorms along and ahead of the front.
Not only is it a strong front, but it has tapped into some tropical moisture! Therefore any storms that move in will be capable of torrential downpours. Here's what I'm thinking with the timing for this system...
Through 9pm tonight: A few showers possible, mostly dry area-wide.
9pm-midnight: Heavy rain and scattered t-storms will push into the mountains and slowly weaken.
Midnight-4am: Rain will pick up in the Upstate, with the chance for isolated strong storms. Damaging wind would be the greatest threat as it looks now.
4am-10am: Off & on rain continues. A few rumbles of thunder will be possible.
After 10am Monday we should slowly clear, but a few redeveloping storms won't be out of the questions while the cold front is passing through midday/afternoon.
After the rain moves out, we'll get some MUCH cooler air! Overnight lows will drop down into the 40s for the mountains and low 50s for the Upstate! Highs will be in the 60s for the mountains and low to mid 70s in the Upstate for the rest of the week... under sunshine!