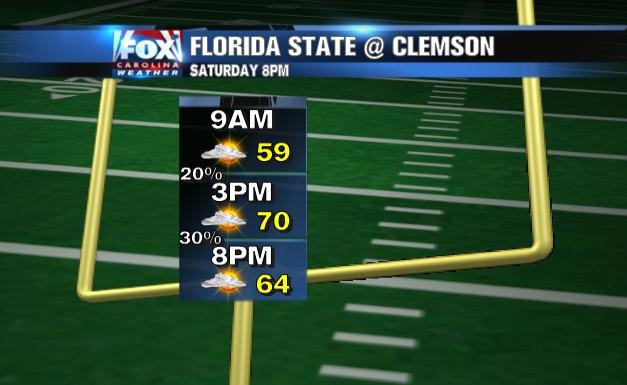 Another Friday here, and it's a big weekend for sports! High school football tonight, and the setup couldn't be more perfect. After a day of partly cloudy skies and temperatures in the upper 60s to low 70s, tonight will stay dry for all games with temperatures in the 60s. With a breeze out of the northeast, fans may want to bring a light jacket as those temperatures drop.
Saturday, College GameDay returns to Clemson as the FSU Seminoles take on the Tigers. An all-day event, expect partly to mostly cloudy skies with temperatures reaching about 70° by mid-afternoon. As we warm up, we're watching the possibility of a few scattered showers to move through the Upstate and mountains. No washout situations expected, but pop up rain showers are a possibility between mid-afternoon and kickoff at 8pm. Once the game starts though, skies should begin to clear back out and we'll be in for a cool game, as temperatures drop into the low 60s before midnight. Jackets needed by the 2nd half.
Waking up to a chilly start Sunday in the 40s area-wide, we'll clear out with sunny skies and highs in the 60s. Staying dry for most of the week as well, daytime highs reach the 60s to low 70s, with overnight lows dropping into the upper 30s and low 40s in the mountains, with mid to upper 40s in the Upstate. Isolated mountain areas could possibly see their first frost sometime next week.