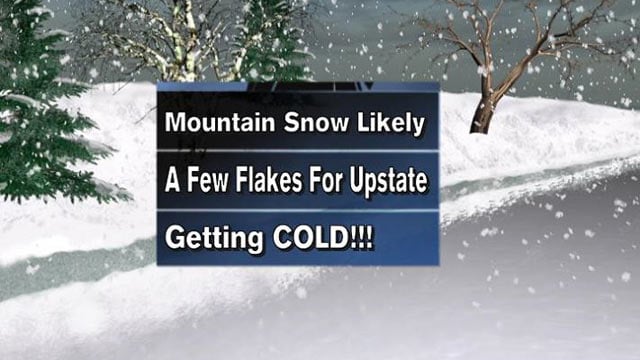 On Tuesday, I doubt there will be many conversations going on that AREN'T about the weather! We have some major changes headed our way, and those changes include a snow chance.
A strong cold front will blast through during the day on Tuesday. This will keep the mountains from warming up very much at all, and it will get the winds really cranking in the Upstate. We'll get a north wind by afternoon, with gusts over 30 mph at times. As the front moves in during the day, our cloud cover will increase and a few rain showers will develop. By 5-6pm, most of the rain will turn to snow in the mountains. During the evening, as the cold air settles and a little moisture is left, the upstate could see a few snowflakes. Anything we see in the lower elevations would be light and nothing is expected to accumulate. Best chance for that will be from 5-9pm Tuesday. We'll start to clear out quickly, and the coldest air of the season will settle in!
You may be wondering how common it is to see snow in November across the Upstate? Well, it has only snowed 7 times in November (more than a trace amount) since 1892. Recently we say a pretty decent snow in November. You may remember, back on Nov 19, 2000 it snowed 2.5" at GSP. The most snow we have seen in November is 4" and that was on Nov. 15, 1906. I'm not expecting more than a trace of snow for in the Upstate for Tuesday.
Tuesday night will be cold and blustery, with breezy winds and low in the 20's area-wide! Highs on Wednesday will only manage to reach the 40s area-wide as well, with the strong winds continuing. Therefore, wind chills will be in the 20's for the mountains and 30's for the Upstate for much of the day.
We'll slowly warm up through the rest of this week, then rain pushes in for the weekend.
Copyright 2013 FOX Carolina (Meredith Corporation). All rights reserved.