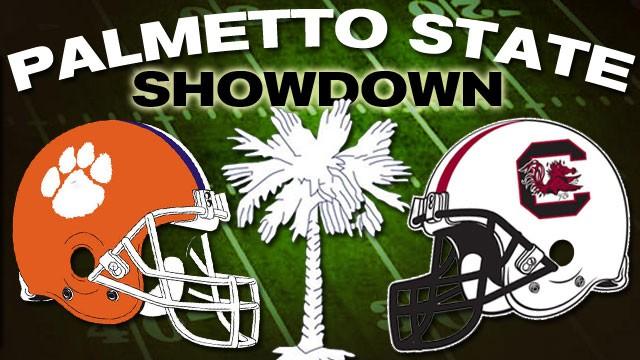 GREENVILLE, SC (FOX Carolina) -
The Gamecocks' 31-17 win against the Tigers on Saturday night at Williams-Brice Stadium helped them rise in the rankings.

It was South Carolina's fifth straight win over their in-state rivals, and increased their home winning streak to 18 in a row. That's the longest such streak in the nation.
The Gamecocks were denied a trip to the SEC Championship game when Missouri beat Texas A&M on Saturday night, but their BCS hopes still might be in tact.
In the most recent polls, South Carolina moved up two spots in both. The Gamecocks are now ranked 8th in the BCS standings and Associated Press poll, and tied for 7th with Baylor in the Coaches poll.

The Tigers' chances at a BCS bowl may be done. Clemson fell to 13th in the BCS and AP Poll, 11th in the Coaches. They were 6th and 4th respectively a week ago.
The top 10 teams in the BCS are:
Florida State 12-0
Ohio State 12-0
Auburn 11-1
Alabama 11-1
Missouri 11-1
Oklahoma State 10-1
Stanford 10-2
South Carolina 10-2
Baylor 10-1
Michigan State
The college football season is not over yet, with the several conference championship and games on Saturday's horizon. But Carolina and Clemson fans will have to wait a little while longer to see where they will head in the post season.

Copyright 2013 Fox Carolina (Meredith Corporation). All rights reserved.