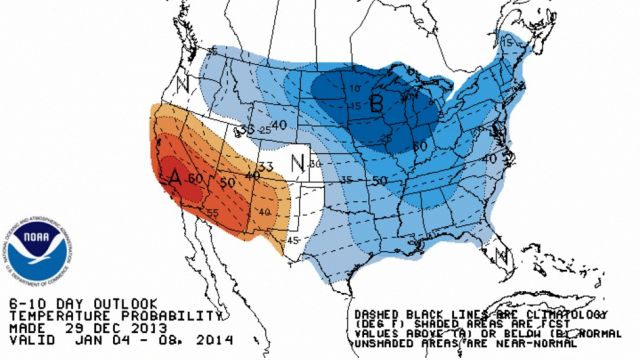 GREENVILLE, SC (FOX Carolina) -
We end off the final month of 2013 wetter than usual. December usually averages about 4.11 inches and we have seen over 6 inches in parts across the upstate. Temperature wise we were just about 2 degrees above the average high for the month, recording and average of 56.6 degrees while we usually sit at 54.
Looking ahead into 2014 we can see a cooling pattern that may start things off below average for the Upstate and Mountains. NOAA's Climate Prediction Center puts our area in a 40% to 50% chance of below average temperatures to start of the year 2014. (Next 6-10 days)
We are not alone in this outlook as much of the Midwest all the way to the Eastern Seaboard are all expected to ring in the New Year with below average temperatures. Now this is in no way a look at what the New Year has in store for us weather wise. However, it is a good hint to add one additional New Year's resolution…
Dress Warmer!