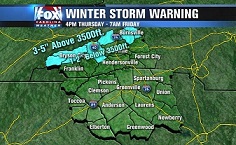 Good morning and Happy New Year! It's the first blog of 2014, and we are talking wintry weather! For the snow lovers, you're going to have to travel to some pretty high elevations to see this round of the "white stuff", but it should begin as cold air approaches late this afternoon.
But let's back up a bit. Prior to the snow event, a system is in place currently bringing everyone in the Upstate, Western NC and NE Georgia a round of on & off rain showers through the day. It'll be a cold rain, with highs only reaching the upper 40s to low-50s. As the colder air approaches this afternoon, expect a breeze to pick up Upstate, with blustery wind moving into the mountains.
Upstate and NE Georgia rain showers should become more consistent this afternoon and into the early evening, but shortly after the dinner hour we'll start to dry out.

In Western NC, rain showers should changeover to snow showers along the TN border around 3pm. A Winter Storm Warning is in place from 4pm today until 7am Friday for Graham, Swain, Haywood, Madison, Yancey and Mitchell counties. Above 3500ft, 3-5" of accumulation is expected by Friday morning. Below 3500ft, 1-2" is expected. Many other counties in Western NC can expect to see a quick burst of snow here & there through the early evening, but then for all NOT on the TN border, skies will begin to clear after dinnertime. TN border snow should subside around or just before daybreak on Friday.
Friday itself will bring sunny skies, but blustery and COLD conditions for everyone. Wind will kick up around 10-15mph, gusting to more than 25mph at times. Bundle up!!