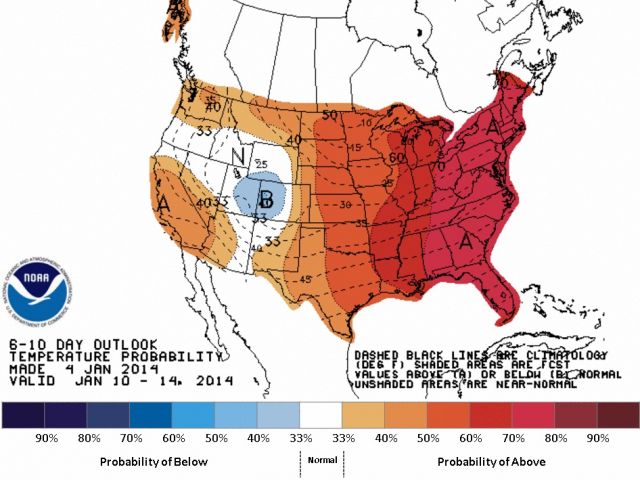 GREENVILLE, SC (FOX Carolina) -
A deep upper air trough is pushing through the Great Plains allowing arctic air to blast into the Mid-West all the way down the Mississippi River Valley and along the Eastern Seaboard. Temperatures are expected to dip into the single digits Monday night into Tuesday with wind chills possibly in the negatives!
Now Last week we looked at the 6-10 day outlook put out by the Climate Prediction Center and they had us starting the year with below average temperatures. (Which we are currently experiencing) The good news is that the same outlook for the upcoming days are showing South Carolina as a 70% chance of experiencing above average temperatures. (Average is about 52 degrees this time of year)
Now the bad news... As we can already see in our seven day forecast, after the bitter cold air moves on, we will look to see warmer air push in but with a catch. High pressure over the Atlantic will help to funnel this warm air into our region, but not before picking up moisture from the Gulf of Mexico.
The same 6-10 day outlook shows that we will likely see above average rainfall for the same period of time as well. Giving us a warm and wet pattern.
It seems that we will transition from a dry and bitter cold pattern to a wet and mild pattern in the days ahead as 2014 continues to be anything but average.