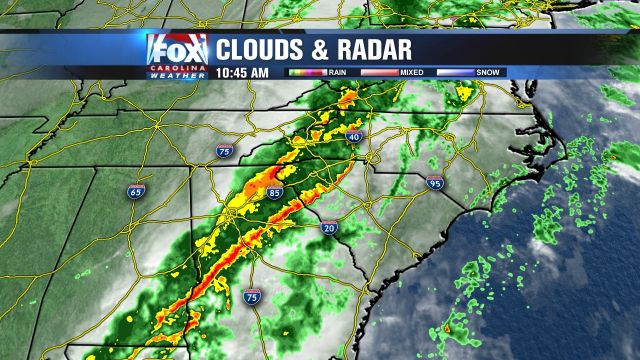 A strong line of storms pushed through the Western Carolinas and NE Georgia this morning, sparking severe thunderstorm warnings, a brief tornado warning, and flash flood warnings. At this point (11:10am) the strongest line is now moving out of Cherokee and Union counties, and making it's way through Greenwood, Newberry, and Abbeville counties.
We're watching a second line attempting to form in NE Georgia and the western Upstate, but for now it's not looking good for severe formation. For the rest of the day, we're expecting a few more (weaker) thunderstorms as well as significant rainfall. There is still a Flash Flood Warning in effect for Oconee, Pickens, Greenville, Anderson, Elbert & Hart counties until 3:30pm.
Once this system completely pushes through the area, we're expecting the last of the rain around dinnertime. The TN border could see a few lingering lighter rain showers and even a snow flurry or two overnight, but high pressure is expected for Sunday. Sunny skies will dominate to end the weekend.