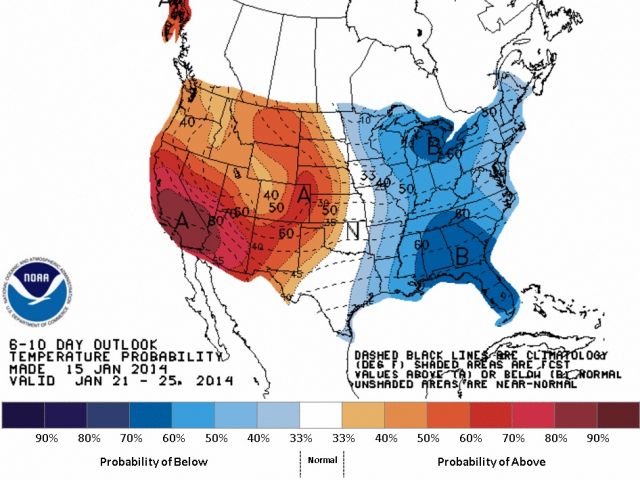 Overnight lows will dip into the mid to upper 20s as we see partly cloudy skies in the Upstate and mostly cloudy skies in the Mountains. We are still holding on to the chance of a few snow flurries along the Tennessee border for the overnight, however, for the Upstate will say dry and calm.
Winds will be breezy throughout the day in the upstate on Friday as the cold front approaches and temperatures hit the upper 40s. The mountains will see more in the way of cloud cover with highs right around 40s degrees.
With cold air settling in behind the cold front, Friday night will bring on a chilly night with lows in the lower 20s and mid-teens! Saturday's highs will only reach the mid-40s in the upstate and upper 30s across the Mountains.
Though we will see a warm up as we approach Monday, we will still look to see more cold air invade our region by mid-week. The Climate Prediction Centers 6-10 day outlook has the Upstate and Western NC as 60% likely to see below average temperatures.
It is still too soon to say officially, but if this trend were to continue, January could turn out to be below average in terms of Temperatures!