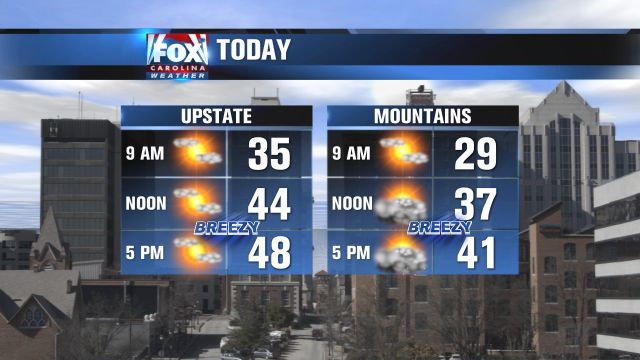 Our unsettled weather pattern bringing many rounds of light snow showers to Western NC is finally on the tail end, and full-on sunshine is right around the corner. For today, expect to see mostly sunny to partly cloudy skies with highs in the 40s for everyone. Mid-afternoon we'll see a few more clouds build on the TN border, bringing isolated light rain/snow showers. As this is happening, much of Western NC and the Upstate remain with mainly clear skies, but the wind will kick up 10-20mph, gusting up to 32mph. So it will consistently feel quite a bit cooler outside than the temperature reads.
Tonight, expect clear skies with lows in the low 20s Upstate, with partly cloudy skies and an isolated snow shower in Western NC, mainly along the TN border. Lows in the mountains dip into the middle-teens.
Saturday will be the colder day of the weekend. Highs reach the mid-30s to low 40s, with the breeziness sticking around (especially in Western NC). An early morning mountain snow flurry is possible, but then clearing skies take over giving us plenty of sunshine.
Sunday's sunny skies and lighter wind allow temperatures to make a slight rebound, getting into the low-50s Upstate and mid-40s in Western NC. Monday, sunny again, with even warmer air in place in the 50s for everyone.