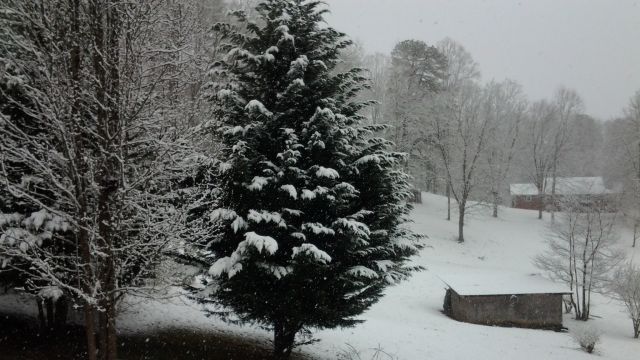 From Dee Boozer in Jackson Co.
As of 8:30pm on Tuesday, the snow has slowed down for areas south of the TN border in the mountains. The border areas are still getting some heavy NW flow snow showers, but spots like Asheville are seeing the flakes wind down. Here's a short list of a few snow reports from NWS:
Grandfather Mtn. (Avery Co.) - 4"
Clyde (Haywood Co.) - 2.5"
Beech Mtn. - 2"
Maggie Valley - 1"
Robbinsville - 3"
Tonight the cold really settles in. I'm going with a low of 17 in the Upstate and 9 for the mountains. Wednesday will be sunny, but despite that sunshine we'll only warm into the mid 30s in the Upstate and mid 20s for the mountains.
Our next front arrives on Thursday, and that will bring an even COLDER night for Thursday night. This front won't bring as much snow for the mountains, but there will be some seriously frigid air behind it. Low of 14 in the Upstate and 7 in the mountains on Friday AM!