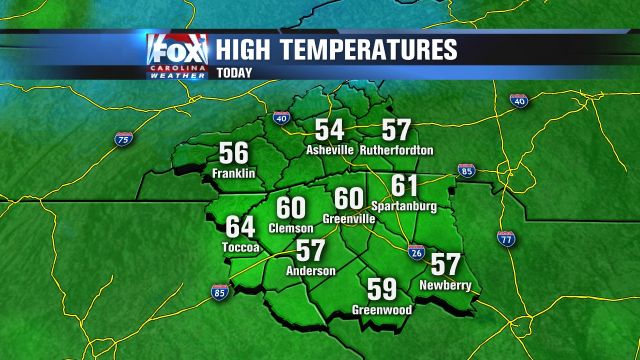 Friday's highs
Wow! After several days below normal for this time of year, we rebound up to 60 and 61 in many areas across the Upstate! I think many folks had spring fever today, and I saw a LOT of cars at the car wash! We'll get more of the mild air Sunday, while Saturday will be a bit cooler.
Saturday we'll see increasing clouds and a northeast breeze. That will keep temps down to the low to mid 50s for highs. Then on Sunday, the winds switch out of the southwest and that will help us warm into the low to mid 60s! A front moves in late on Sunday to being showers, and possibly some pockets of heavy rain by Monday morning.
I've seen some rumblings on social media about a big snow next weekend... I'll tell you right now I'm not seeing it. Right now our long range models are sticking with some rain chances, but not snow. I do know that there is a theory that if the snow sticks around on the ground for 3+ days, then we'll see more snow within the week. That old wives tale actually holds some truth for me... in that there IS a higher likelihood of seeing snow when we have a cold stretch that keeps snow on the ground for 3 days. In our case, I don't think snow returns within the week. We'll stay on top of the models though!