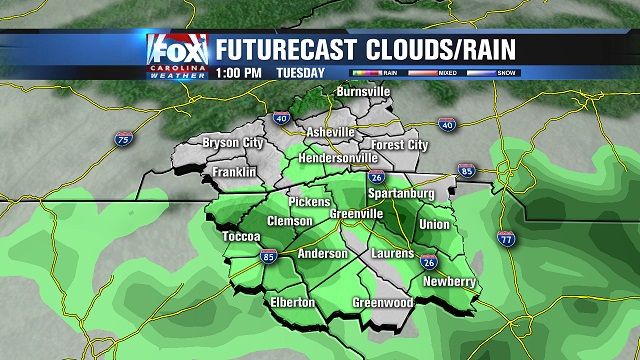 Hope you had a great weekend and enjoyed our mild days! The cold air surges back tonight as a cold front passes through. Showers will move in from south to north through the day on Tuesday, as we remain in a cold air damming set-up (where cold air is trapped at the surface and showers develop from moisture gliding over the cold air). Take a look at the image attached... it shows rain settling in by around 1pm tomorrow and conditions will be breezy. We'll see off and on light rain through Tuesday night, then it will pick up a bit as another front moves in. Heaviest rain will fall Wednesday morning, then we'll slowly clear.
Looking ahead in the forecast, we have more rain in store! There is a chance for some brief winter weather for the Upstate, and it looks like that would be Friday morning. Cold air will be in place, and it should be thick enough to preclude any freezing rain/ice. Moisture will increase from the southwest, and that could fall as a rain/snow mix in the Upstate late Thursday night into Friday morning. The mountains would see a few snow showers potentially, but anything we'd see across our entire area on Friday would be LIGHT and BRIEF. I think temps will stay slightly above freezing in the Upstate, so road issues aren't expected Friday morning.
Heavy rain is likely for the weekend in the Upstate, while the mountains will see a mix of wintry precip. We could get 2-3 inches of rain in the Upstate between Friday and Sunday night, and in the mountains the heavy rain will be mixed with snow occasionally, but it still looks like rain will be the primary precip type.
We'll continue to monitor Friday through Sunday for any changes!