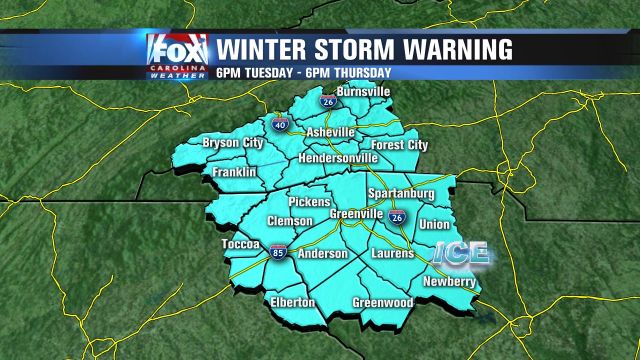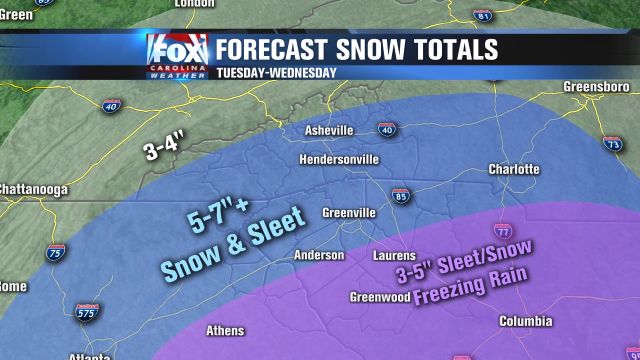 GREENVILLE, SC (FOX Carolina) -
The National Weather Service has issued a winter storm warning that will be in effect from 6pm this evening until 6pm Thursday night.
This morning we are already beginning to see rain transition over to snow in the upstate. With the wet and warm ground in place at this time, we are expecting the snow to take a little bit before it really begins to stick. Tuesday can see between a dusting to 2 inches through the entire area and into western North Carolina.
We are expected to see a brief break in the snow this evening before the heavy stuff really pours in. Wednesday morning will see the start of heavy snow across the area. Throughout the day we will likely see snow, sleet and freezing rain with much of the icy conditions focused in our southern upstate counties.
Thursday morning will have the remnants of this storm with sleet and snow pushing out of the area. Forecasted totals have been tweaked once again, bringing them up slightly.
We can see between 3 to 5 inches in our southern upstate counties with sleet and freezing rain as well. It's looking like 5 to 7 inches will be possible along the I-85 corridor and into parts of the mountains. Our far northern counties can see 3 to 4 inches when all is said and done.
This system is already underway and is effecting the upstate at this time. There will be many different reports as this storm progresses. We will be sure to keep everyone updated as things develop.