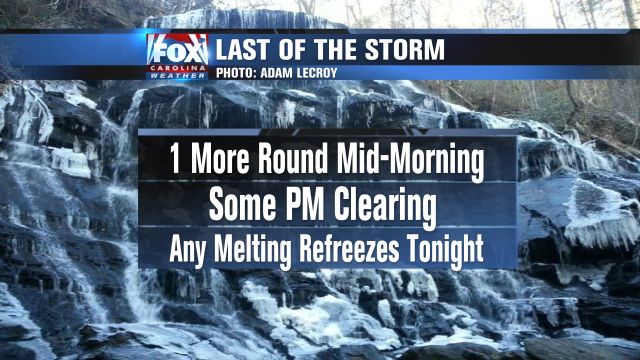 While most of the snow fell on Wednesday, we are still under a Winter Storm Warning until 6pm across our area. Scattered snow showers are still moving through the Upstate, NE Georgia, and in Western NC, but should move out around lunchtime. The snow should remain light this morning, and accumulations will be limited to another half inch to 1" of accumulations on top of what we've already gotten.
This afternoon we'll see some sunshine break through the clouds, and highs will reach the mid-to-upper 30s for everyone. SOME melting will begin, but as temperatures drop back into the 20s overnight we will expect everything to refreeze and cause more concern on the roadways.
On Friday (Valentine's Day), we should see partly cloudy skies and highs reaching the 40s for everyone. We should see a good deal of melting snow and ice. Late Friday night a few rain/snow mix showers are expected to move through our region, so roads will remain slick.
Saturday and Sunday mostly sunny skies stick around for everyone, with highs reaching the 40s and low 50s, so it will be some welcome relief from all of this winter weather.