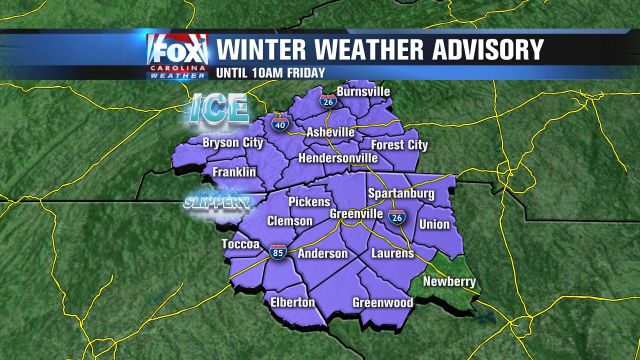 It goes without saying at this point, but let's just type it out anyway... Don't travel tonight or early tomorrow morning unless you have to! Overnight lows will drop into the mid 20s, and that will freeze portions of the wet spots on roads... leading to black ice!
Friday should be OK on the roads post-10am. Clouds will roll in toward the end of the day and highs will make it up to around 50 in the Upstate and mid 40s for the mountains. A fast moving clipper system will swing through Friday night and bring a quick shower or 2 to the Upstate and some mountain snow. Black ice will be possible Saturday morning as well from snow melt and refreeze. I don't expect problems from the brief showers we see Friday evening/early night.
The weekend looks gorgeous with seasonably cool highs and sunshine! Enjoy!