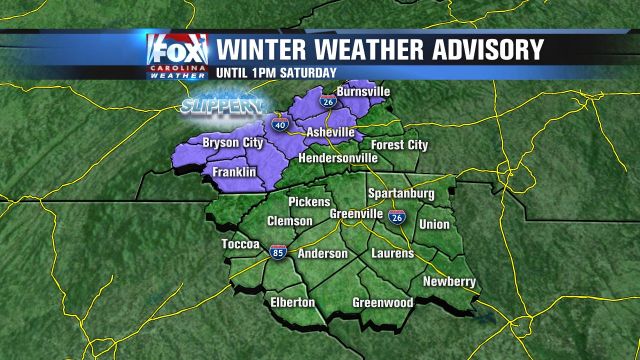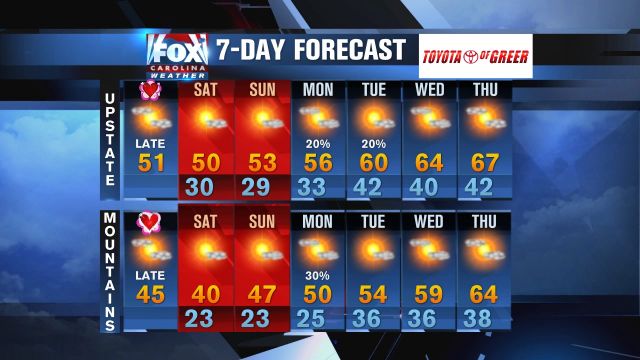 Good morning, and welcome to the end of the wintry weather! Well - for some...but still we are just about done with this blast of Ol' Man Winter, and the general consensus across social media is that most are excited for some Spring-like temperatures next week. Here's what we can expect going into the next few days:
Today: Clear skies through mid-afternoon with temperatures reaching the mid-40s in the mountains, and near 50 Upstate. After 3pm we'll see clouds begin to increase, but stay dry through the dinner hour.
Tonight: A chance for scattered showers moves in late tonight across the Upstate and NE Georgia, but should move out before lows drop into the low 30s. Western NC towns could see a mix of rain and snow, with a changeover to entirely snow showers on the TN border. 1-3" is expected to fall across the highest elevations, so there is a Winter Weather Advisory in place until 1pm Saturday for all our TN border counties, as well as Jackson, Macon, and Buncombe.
Saturday: By 9am everyone is done with the wet weather, and full sunshine returns. Highs reach 40 in the mountains with breezy conditions, and 50 in the Upstate.
Sunday: Mostly sunny skies and even warmer air returns, highs reaching the upper 40s to low 50s area-wide.
Next Week: A few showers will be possible on Monday and early Tuesday, but otherwise we can expect to see a lot of sunshine, and a few passing clouds through the middle of next week. Highs early in the week begin in the 50s, but by Wednesday, everyone from NE Georgia through the Upstate and into the mountains will feel Spring-like as we all reach into the low to mid-60s.