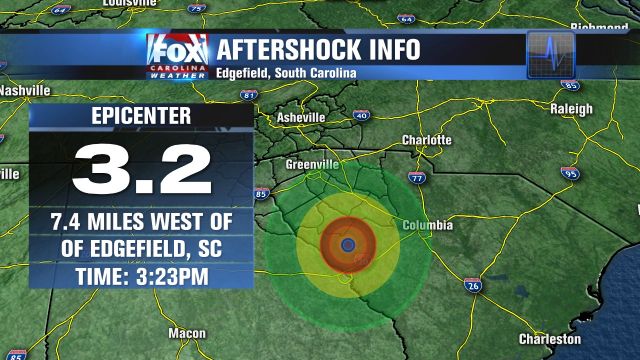 GREENVILLE, SC (FOX Carolina) -
Many people may have felt the 3.2 magnitude earthquake Sunday afternoon and may be wondering if it is a different event. The earthquake felt Sunday is actually called an aftershock to Friday's initial quake.
An aftershock is a weaker earthquake that occurs after the main shock, or largest earthquake. Earthquakes occur when there is a sudden shift in the earth, often along fault lines. An aftershock is what happens as the earth settles after the shift.
Earthquakes often experience foreshocks and aftershocks. These are weaker earthquakes in the same region of the main shock. If an aftershock were to be stronger than the main shock, it is then considered to be the main shock.
Sunday's earthquake occurred just 2 miles away from Friday night's earthquake. It hit 3.2 on the Richter scale. This is considered minor. An earthquake of that magnitude is often felt by people but very rarely can cause damage.
It is not unusual for aftershocks to be felt days after the "Main Shock."
Copyright 2014 FOX Carolina (Meredith Corporation). All rights reserved.