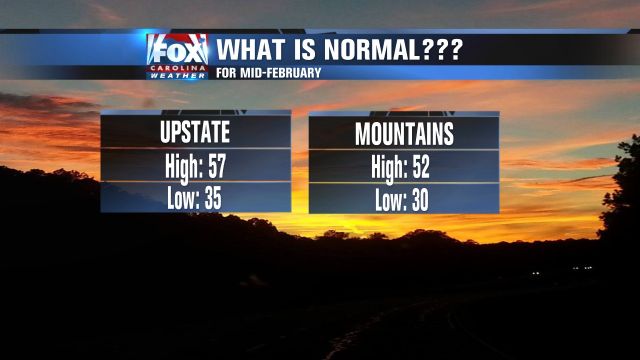 We set new records at GSP and at Asheville Regional Airport! We reached 75 at GSP and 72 in Asheville. The old records are 71 for AVL and 75 for GSP (this one was tied and replaced).
It will stay breezy through tonight and tomorrow, and the mild air will stick around. Highs will still approach 70 on Thursday for many spots, which is still about 15 degrees above normal. Thursday night a cold front will approach, and that means strong t-storms. The good news with this front it the timing of it's arrival. Storms should be pushing in during the wee hours of the morning, and shifting out by lunchtime on Friday. During this time we have the least amount of instability from daytime heating, which will help to limit some of the severe weather potential. However, the storms have a good amount of shear to work with, which will help them to stay alive and thrive during the late night hours through Alabama, Tennessee and Georgia. At this point I expect a few strong storms, with heavy downpours, burst of wind between 40-60 mph and frequent lightning. I think out tornado threat will remain low, but we can't rule out a brief, weak tornado in situations like this. I don't expect hail to be a big threat.
Be sure to remain weather-aware through Thursday night, since storms will be pushing in while many of us are still sleeping. Nicole will be tracking the storms starting at 5am on The Morning News, and I'll be on-call in case things really get dicey!
After the storms move out, the weekend looks nice! Cooler, especially at night with lows in the 30s for the Upstate and 20s in the mountains. Sunshine should dominate the days and highs will still be slightly above normal with low 60s for the Upstate and northeast GA, and 50s in the mountains.